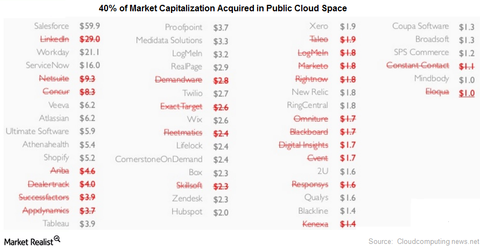 Why Cloud Mergers and Acquisitions Will Likely Continue in 2017
By Anne Shields

Updated
Cloud mergers and acquisitions grew fourfold in 2016
So far in this series, we've discussed how the cloud market's expected growth and dominance in the IT (information technology) space. Synergy Research reported that the cloud grew 25% to become a $148 billion market in 2016. Let's see how M&A (mergers and acquisitions) have led to consolidation in the cloud space and why this trend is likely to continue in 2017.
According to a Bessemer Venture Partners report, approximately 40% of the overall public cloud market was acquired by leading software players making a transition towards the cloud, as the chart above shows. The public cloud market is expected to have a market capitalization of ~$300 billion.
Article continues below advertisement
Notable acquisitions in 2016 include that of LinkedIn by Microsoft (MSFT) and NetSuite by Oracle (ORCL). They were the largest acquisitions in the history of the cloud space. Cisco Systems (CSCO) joined the acquisition spree with the announcement of the acquisition of AppDynamics for $3.7 billion in early 2017.
Considering the growth expected in the cloud space, M&A are likely to continue. The trend will also benefit from these companies' vast overseas cash reserves.
Microsoft outshines peers
Microsoft's acquisition of LinkedIn shows its urge to be the leading player in the cloud space. Currently, Amazon (AMZN) rules the cloud space, with Amazon Web Services' market share standing at a whopping ~40%. However, Microsoft is steadily moving up and threatens Amazon's dominance, as made evident by MS Azure's increased adoption in 2016.
According to the RightScale 2017 State of the Cloud Report, Azure's enterprise adoption surged from 26% in 2016 to 43% in 2017, and AWS saw its adoption increase from 56% in 2016 to 59% in 2017. Overall, Azure's adoption grew from 20% in 2016 to 34% in 2017.