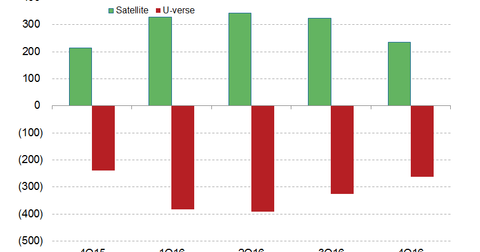 Why AT&T Plans to Shift Users from U-verse to DIRECTV
By Ambrish Shah

Updated
AT&T's US pay-TV subscribers continue to decline
Over the last few quarters, AT&T (T) has been experiencing subscriber losses in the US pay-TV market. AT&T is still converting U-verse video subscribers to DIRECTV. In 4Q16, AT&T gained 235,000 satellite video subscribers, but lost 262,000 U-verse video subscribers, a net loss of US pay-TV subscribers for the company. AT&T attributed this trend to its focus on satellite TV customers after its acquisition of DIRECTV. Accordingly, AT&T expects the decline in U-verse video subscribers to continue.
Article continues below advertisement
Content costs
DIRECTV's content and hardware costs are lower than U-verse's. As a result, in terms of profitability, satellite TV customers are more attractive to the company than U-verse customers. AT&T's U-verse is a fiber-based service for voice, Internet, and video. It is similar to Verizon's (VZ) FiOS. Both FiOS and AT&T's U-verse can be compared to offerings of cable players such as Time Warner Cable and Comcast (CMCSA).
The introduction of AT&T's over-the-top (or OTT) video service in 4Q16 could help AT&T offset the subscriber losses it's experiencing in the US pay-TV market. AT&T's acquisition of Time Warner (TWX) could also help AT&T differentiate its product, as it allows for much tighter integration.
Additionally, AT&T is allowing the U-verse subscriber base to erode over time as customers transition to the satellite platform or churn to other products. This will eventually free up data capacity on the wired network in former U-verse video areas, which can be repurposed to increase broadband speeds with little incremental capex. Also, the sales process would be simplified by avoiding the confusion of having two video products in areas where U-verse TV is currently offered.