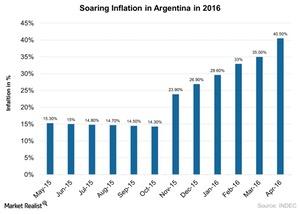 Why Argentina's Inflation Continues to Surge in 2017
By Mary Sadler

Updated
Inflation in Argentina
Argentina's economy (ARGT) has been volatile for the last decade, mainly due to mismanagement by the former government. The economy has been contracting for the last few years. GDP growth is expected to recover to 2.7% in 2017 with President Mauricio Macri's growth-oriented policies. However, inflation has been surging for a couple of years, spiking to around 40.0% in 2016 compared to 10.0% between 2007 and 2009. Let's look now at the inflationary trend in Argentina according to the latest data.
Article continues below advertisement
Inflation surging in 2017
Argentina's (FRN) annual inflation rate is expected to be between 35.0% and 36.0% in 2016, according to government data. However, economists estimate that inflation will be above 40.0% for 2016. President Macri's administration said it hoped to end 2016 with inflation between 20.0% and 25.0%. Inflation is expected to slow down in 2017 to ~22.0%, but the government still considers that too high against the central bank's target of 12.0%–17.0%.
Recently, Argentina's central bank raised its policy rate by 150 basis points after government data indicated that consumer prices rose higher than expected by 2.4% in March 2017. President Macri's government recently cut subsidies for electricity and home-heating natural gas in 2017. The cut aimed to close the fiscal deficit gap, resulting in a rise in inflation for March 2017. High inflation is expected to impact economic recovery in Argentina (FM) in 2017.
Former President Cristina Fernández de Kirchner and her government were accused of manipulating inflation statistics. The new Macri administration, immediately after taking office, normalized the Statistics Institute so Argentina can have a more reliable instrument to track inflation performance. Macri also gave the central bank complete autonomy to make progress in controlling inflation.
In the next part of this series, we'll look at Argentina's performance among emerging market participants.