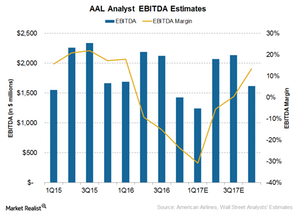 Why Analysts Expect American Airlines' Margin to Contract in 2017
By Ally Schmidt

Apr. 21 2017, Updated 7:37 a.m. ET
American Airlines' margin
In 1Q17, American Airlines' (AAL) EBITDA (earnings before interest, tax, depreciation, and amortization) is expected to fall 31% to $1.2 billion, mainly due to a fall in its EBITDA margin to 12.9%, compared to 19.0% in 1Q16.
In 2Q17, AAL's EBITDA margin is expected to fall to 19.1%, compared to 21.1% in 2Q16. As a result, its EBITDA will likely fall 5.0% to $2.1 billion.
AAL's 3Q17 EBITDA is expected to remain flat at $2.1 billion with an EBITDA margin of 19.2%, compared to its margin of 20% in 3Q16. Its EBITDA is then expected to rise 13% in 4Q16 to $16.2 billion with a margin of 15.8%, higher than its 4Q16 margin of 14.6%.
In 2017, American Airlines' EBITDA is expected to fall 5% to $7.1 billion, with an EBITDA margin of 17.1%. In 2016, American Airlines clocked an EBITDA of $7.5 billion, with an EBITDA margin of 18.7%.
Article continues below advertisement
Fuel costs to rise
American Airlines stock has fallen dramatically since 2015 owing to the slide in crude oil prices and its no-hedging strategy. AAL's fuel costs fell from $2.91 per gallon in 2014 to $1.72 per gallon in 2015 and $1.42 per gallon in 2016—the lowest among its peers, including Delta Air Lines (DAL) and United Continental (UAL).
However, in 2017, American Airlines expects its fuel costs to rise back to $1.77–$1.82 per gallon owing to the recent oil price rise. This is one of the reasons for AAL's margin contraction in 2017.
Labor costs rising
Another major cost for AAL has been the rise in labor costs. Most airlines, including Delta, United, American, and Southwest Airlines (LUV), have renegotiated contracts with their pilots and other staff, giving huge raises in 2017. This rise in labor costs is an important factor in AAL's expected margin contraction.
American Airlines expects its cost per available seat mile excluding fuel to rise ~4% in 2017. Investors can gain exposure to American Airlines with low risk by investing in the PowerShares Buyback Achievers ETF (PKW), which holds 1.1% in the stock.