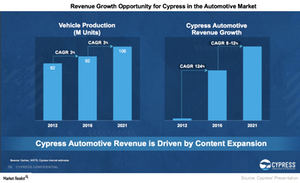 Where Is Cypress Positioned in Automotive Semiconductors?
By Puja Tayal

Apr. 17 2017, Updated 11:36 a.m. ET
Presence in the automotive semiconductor market
One of the biggest growth markets among semiconductors is automotive, which accounted for 31% of Cypress Semiconductor's (CY) revenue in fiscal 4Q16. The company has been increasing its presence in the automotive semiconductor market, which saw its automotive revenue rise 37% YoY (year-over-year) in fiscal 2016.
Cypress supplies MCUs (microcontrollers), sensors, memory, WiFi, and Bluetooth to auto OEMs (original equipment manufacturers) and tier-1 suppliers. It now supplies semiconductors to 19 of the top 25 auto OEMs and ten of the top 15 tier-1 suppliers.
Article continues below advertisement
The addition of Broadcom's (AVGO) wireless IoT (Internet of Things) business gave Cypress an opportunity to sell connectivity chips to its automotive customers. The company supplies Wi-Fi-Bluetooth combination to seven of the top eight auto OEMs. It also supplies NOR flash for a graphic company's auto AI (artificial intelligence) platform. (This graphics company is most likely Nvidia [NVDA], which is leading the AI market.)
All the above projects have made Cypress the largest supplier of vehicle instrumentation and clusters, WiFi, automotive MCU (microcontroller), automotive NOR Flash memory, and USB-C connectivity. The company is now increasing its presence with Chinese (FXI) OEMs and body electronics.
Automotive market outlook and content
Cypress expects its automotive revenue to grow at a CAGR (compound annual growth rate) of 8%–12% over the next five years. This growth is higher than the estimated 3% growth in vehicle production.
At the Morgan Stanley Technology, Media, & Telecom Conference on February 28, 2017, Cypress CEO (chief executive officer) Hassane El-Khoury explained that the company's growth is more sensitive to content per car than it is to total vehicle production.
In calendar 3Q16, Cypress's automotive revenue rose 25% YoY, whereas overall vehicle production fell 5% after adjusting for seasonality. El-Khoury explained that the growth was driven by the increasing amount of semiconductor content per car.
BMW
Cypress supplied content for the BMW 7 Series in 2010. The content increased for the same car in 2015 and 2016, accounting for 7% growth in content in just one year. And this growth was just for one car model. (There are different car models with different content requirements.) Tot be sure, this growth in content is what will drive automotive revenue going forward, regardless of growth in vehicle production.
NXP Semiconductors (NXPI) estimates that the average chip content per vehicle will grow from $332 in 2015 to $374 in 2019. This will likely drive the automotive semiconductor market to $36 billion by 2019.
Next, we'll look at the automotive subsegments that Cypress is targeting.