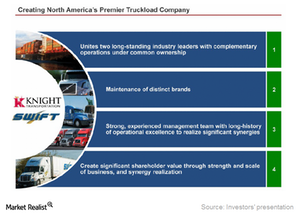 What's the Story behind the Swift and Knight Transportation Deal?
By Samuel Prince

Apr. 13 2017, Updated 7:38 a.m. ET
The new entity
The proposed merger of Swift Transportation (SWFT) and Knight Transportation (KNX) seeks to combine two of North America's major truckload transportation companies under a common ownership.
The new entity will likely be one of the top five truckload presences in terms of dry van, refrigerated, and dedicated cross-border transportation to Mexico and Canada. It will also be present in the brokerage and intermodal areas.
Article continues below advertisement
Note that, compared to Swift Transportation, Knight Transportation is a relatively small company in every respect. This merger is essentially not the merger of equals, so it's a bit of a surprise that the new company will be led by Knight's management. If we take a look at the reaction of Swift's founder, Jerry Moyes, however, we'll get a sense of why this decision was made.
What Moyes said
According to Moyes, "The Knight and Moyes families grew up together, and the Knights helped me build Swift before starting their own company and making it an industry leader in growth and profitability. I am confident that we have the right approach to maximizing the contribution of both teams, and I look forward to helping the Knight-Swift leadership team in any way I can to continue the legacy of both great companies."
Here, the market participants are bullish on the fact the Knight's best practices will likely be applied to the much bigger Swift. Since Knight is known in the transportation sector as one of the best-managed companies, it should create value for shareholders in times to come.
Article continues below advertisement
The other side of the story
Since its inception, SWFT has witnessed organic growth. However, the company has also opted for acquisitions to speed up its growth. Swift Transportation's revenue has grown quickly.
The merger also has a historical perspective. In early 1960, SWFT employed the Knight brothers. Later, the brothers created their own venture called Knight, also based in Phoenix. Since then, the company has seen strong growth, clocking over $1.0 billion in revenue. The current deal between the Phoenix-headquartered companies has seen both families coming together again.
ETF investment
Investors bullish on the transportation and logistics sector can consider investing in the SPDR S&P Transportation ETF (XTN). Trucking companies (JBHT), airlines (DAL), and railroad companies (NSC) make up 26.9%, 42.4%, and 13.6% of XTN's holdings, respectively.
Next, let's take a quick look at the rationale behind the Swift and Knight deal.