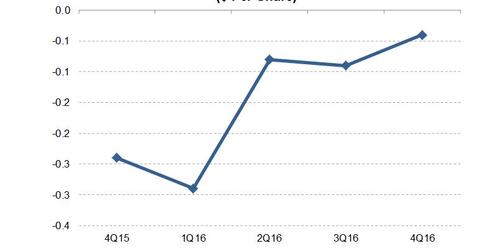 What's Standing between Square and Profitability?​
By Neha Gupta

Updated
Investment in product and market expansion
Square's (SQ) continued growth investments are likely to delay the realization of meaningful profits. It's investing in new services such as credit to small businesses and expansion into new geographical markets such as the recent launch of its service in the UK (EWU) following rollouts in Canada, Japan, and Australia.
Though the expansions are producing more revenue, they are also weighing on the bottom line. When Square launches a new product or expands into a new market, marketing expenses are likely to go up as the company pumps more money into advertising campaigns to popularize its products and services.
Article continues below advertisement
Bottom line improvement
Given that Square is likely to remain in expansion mode for a long time considering that the service has launched in only a few markets, it's likely to struggle to see meaningful profits in the near term. However, the company has demonstrated a commitment to cost controls that is likely to continue strengthening its bottom line as it remains in heavy investment mode. Square posted EPS (earnings per share) of -$0.04 in 4Q16, a significant improvement from its EPS of -$0.24 a year earlier as illustrated in the above chart.
The long-term prospects are bright
Over the long term, Square's investments and strategic partnerships such as with Apple (AAPL) shouldn't just help it unlock new revenue streams. They could also help the company fend off competition from the likes of PayPal (PYPL) and Alibaba's (BABA) Alipay.