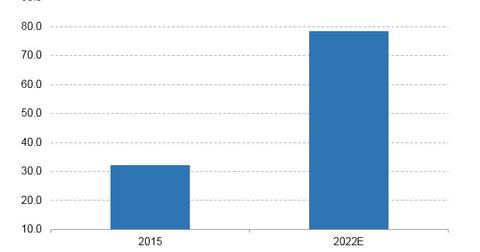 What's New with Google Home 2.0?
By Neha Gupta

Apr. 14 2017, Updated 11:36 a.m. ET
Google Home 2.0 comes with Wi-Fi support
The Information recently reported that an insider leak indicates that Alphabet's (GOOGL) Google is working on a second-generation Google Home device that could double up as a Wi-Fi repeater. When the new Google Home hardware will launch is unknown. If the leak is accurate, it offers a glimpse of Google's behind-the-scene efforts to overtake Amazon (AMZN) in the smart home systems market.
Although Google Home competes with Amazon's Echo smart speaker, it is a latecomer to the scene and is under pressure to show investors that it is economically viable.
Article continues below advertisement
Enormous revenue opportunity
Although Echo boasts far more features than Google Home, it lacks Wi-Fi repeater support. Therefore, if Google builds a Wi-Fi extender feature into Google Home, it could gain a significant advantage over Amazon in the smart home market, allowing for more sales. Research company MarketsandMarkets estimates that the market for home automation systems such as Echo and Google Home will grow to $78.3 billion by 2022 from $32.1 billion in 2015, as shown in the above chart.
Growing non-advertising revenue
Wi-Fi support in Google Home would not only boost the appeal of the device as a smart home assistant, but also expand the market for Alphabet's Google Wi-Fi, a multipoint networking solution that the company recently launched.
People who buy Google Wi-Fi may also be interested in Google Home if it helps them expand Wi-Fi coverage within their residence, and owners of Google Home may add Google Wi-Fi to increase Wi-Fi coverage. Alphabet could generate more revenue from hardware sales, enabling it to grow its non-advertising revenue and reduce its reliance on Internet advertising budgets as competition heats up in the space. Facebook (FB), Snap (SNAP), and Twitter (TWTR) have all stepped up their campaigns for online advertising funds.