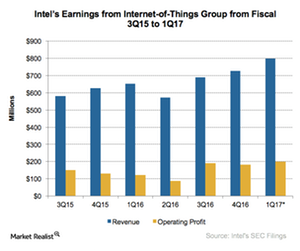 What's Happening with Intel's Internet of Things Group
By Puja Tayal

May. 4 2017, Updated 7:35 a.m. ET
Intel's Internet of Things Group
So far, we've seen that Intel (INTC) is touching on every aspect of data—processing, transmitting, storing, and accessing. The company's IoTG (Internet of Things Group) will focus on the first process, collecting data from various IoT devices.
Intel's IoTG revenue rose 15% YoY (year-over-year) to $2.6 billion in fiscal 2016. As the company is looking to expand its IoT group, it has increased its R&D (research and development) spending in the space by ~80%. Intel has created the Intel GO brand for its autonomous car efforts and a VR (virtual reality) sports brand for its efforts in virtual reality in sports.
Article continues below advertisement
Intel GO 
Intel has entered into several partnerships and has made a few acquisitions to grow in the automotive space. In March 2017, the company announced its second-biggest acquisition, Mobileye (MBLY), to grow in the automotive space. The combination of Mobileye's and Intel's technologies creates an end-to-end autonomous-driving solution, from car to data center.
Intel could report Mobileye's earnings under IoTG, or it could create a separate automotive group. The two companies' automotive businesses aren't big enough to be separate business groups. There's a high probability that Intel reports Mobileye's earnings under IoTG, which would increase IoTG's revenue by 30.0% YoY to ~$3.5 billion in fiscal 2017.
In January 2017, Intel acquired a 15% stake in mapping information technology HERE, which is co-owned by Audi, BMW, and Daimler. Intel also has a partnership with BMW to develop an autonomous car platform.
Intel's VR sports
Intel has partnered with the NFL (National Football League) to install 360-degree replay technology in several stadiums before the 2017 season starts. The technology will comprise camera setups to capture 5K visuals and onsite servers to process up to one terabyte of data per 15- to 30-second clip.
Intel already streams NCCA (National Collegiate Athletic Association) basketball games live on its TrueVR platform. The company has installed seven VR camera arrays. Each array has 12 cameras broadcasting a spherical view of stadium action. Viewers can watch games on Samsung (SSNLF) Gear VR headsets. Intel is likely to make many more IoT announcements in fiscal 2017. Next, we'll look at Intel's security business.