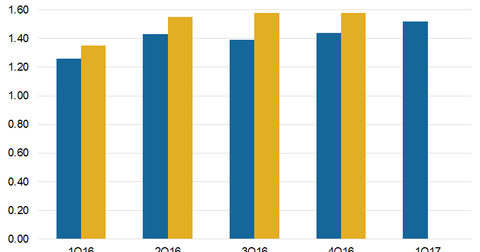 What to Expect from JPMorgan's Earnings in 1Q17
By Robert Karr

Updated
1Q17 earnings
In its 1Q17 earnings release on April 13, 2017, JPMorgan Chase (JPM) is expected to post earnings per share (or EPS) of $1.52, a rise of 12.6% on a year-over-year (or YoY) basis. This growth is expected mainly due to the strong performance of the company's commercial banking, lending, consumer finance, and credit card businesses.
Sequentially, the bank is expected to see a marginal fall in its EPS compared to $1.58 in 4Q16. It's managed to continually beat estimates over the past few quarters.
JPMorgan is expected to post revenue of $24.9 billion in 1Q17 and $102.1 billion in 2017, a rise of 2.9% compared to 2015. In 4Q16, the bank posted revenue of $24.3 billion, aided mainly by a 31% rise in bond-trading revenue.
Article continues below advertisement
Loan book expansion
JPMorgan has seen strong growth of 14% in its core loan book and 11% growth in its deposits in 4Q16. It also saw a rise of 14% in credit card sales volumes and a 10% rise in merchant processing volumes.
In its investment banking division, JPM maintained the number one ranking for global investment bank, aided by its 8.1% wallet share in 2016. It saw the highest share in the North America and Europe, Middle East, and African regions.
In its asset management business, JPMorgan managed $1.8 trillion in total assets on December 31, 2016, a rise of 3% YoY. The rise was aided by flows into liquid and long-term offerings and the performance of the broader index (SPX-INDEX) (SPY).
JPMorgan's major peers Bank of America (BAC), Citigroup (C), and Goldman Sachs (GS) beat estimates in 4Q16, while Wells Fargo missed estimates.
In this series, we'll study JPMorgan's expected performance, banking, asset management, growth outlook, and initiatives for 2017.