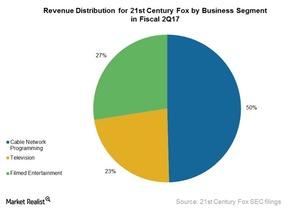 What to Expect from Fox's Filmed Entertainment Business
By Shirley Pelts

Updated
Fox's Filmed Entertainment segment
On April 14, MarketWatch reported that 21st Century Fox's (FOXA) movie The Boss Baby had made $26.3 million at the box office April 8–9, pushing its global box office total to $199.7 million and its US box office total to $89.4 million. However, Fox expects that its filmed entertainment business could fall in 2H17 due to a difficult comparison to 2H16 when Deadpool was released and when The Martian was released on home entertainment.
Article continues below advertisement
The company stated in an earlier earnings call that "consistency of creative output" was the key to success for its Filmed Entertainment segment. Fox's business strategy differs slightly from other big movie studios like Walt Disney's (DIS) Disney Studios or Comcast's (CMCSA) Universal Pictures, which follow a more franchise-focused strategy.
According to Disney, since the acquisition of Pixar in 2006, Disney has produced around 30 movies under Pixar. Disney stated that, together, its movies from Pixar, Lucasfilm, and the Marvel Cinematic Universe have made ~$800 million globally.
Considering the success of the franchise-focused strategy for other movie studios, it remains to be seen whether Fox could see more success for its Filmed Entertainment segment by deviating from this strategy.
Filmed Entertainment segment in fiscal 2Q17
As the above chart indicates, Fox's Filmed Entertainment segment accounted for 27% of the company's total revenues of $7.7 billion in fiscal 2Q17. This business had revenues of $2.3 billion in fiscal 2Q17, a decline of 4% as a result of lower theatrical revenues.
21st Century Fox makes up 0.2% of the SPDR S&P 500 ETF (SPY). SPY has 4.1% exposure to the Computers sector.