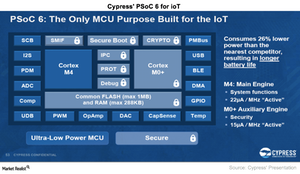 What Makes Cypress's IoT Portfolio Stand Out?
Cypress's IoT product portfolio
IC Insights estimates that the IoT (Internet of Things) semiconductor market will reach $30 billion by 2019, with smart homes growing the fastest, reaching $1 billion by 2019. Cypress Semiconductor (CY) is looking to tap this market through product innovation, broad customer base, and partnerships.
The company recently launched its PSoC 6 (programmable system on chip) and two new 802.11ac wireless solutions for the IoT market.
Article continues below advertisement
PSoC 6
Cypress's new PSoC 6 is based on the high-performance ARM M4 core and offers low power consumption and embedded silicon security. The company claims that PSoC 6 is the first MCU (microcontroller) with embedded security that was exclusively built for the IoT market. It had planned to start volume production of PSoC 6 in 4Q16.
802.11ac wireless solutions
Cypress also launched two new dual-band 802.11ac wireless solutions for IoT devices. These solutions combine high-speed Wi-Fi, Bluetooth, and BLE (Bluetooth low energy) and deliver secure device authentication. They use high-speed transmissions to give a wider range and faster download speeds for IoT devices.
The solutions use deep sleep modes to reduce power consumption and are supported by WICED (wireless Internet connectivity for embedded devices) SDKs (software development kits) that streamline the integration of wireless technologies for IoT developers. Notably, Cypress has acquired these wireless connectivity solutions from Broadcom (AVGO).
Article continues below advertisement
Cypress CYW43455 SoC and CYW54907 SoC
The Cypress CYW43455 advanced multi-radio SoC integrates high-performance 802.11ac, low-power Bluetooth 4.2, and BLE, making it ideal for smart home products such as security cameras that require high-speed Wi-Fi and low-power Bluetooth. The Cypress CYW54907 SoC combines a high-performance 320-MHz ARM Cortex-R4 application processor and an advanced 802.11ac subsystem.
Cypress is currently sampling both solutions and plans to start volume production in May 2017.
Cypress CY4356EC SoC
The Cypress CY4356EC Wi-Fi and Bluetooth combo deliver data rates of up to 837 Mbps (megabytes per second) and up to 2×2 MIMO (multiple-input multiple-output) support. The SoC is used in the new Nintendo Switch console. Its high data rates enable fast downloads and interactive online multiplayer gaming with low latency. The combination of Wi-Fi and Bluetooth enables gamers to play with multiple systems and controller units.
The SoC meets the IEEE (Institute of Electrical and Electronics Engineers) 802.11ac WLAN (wireless local area network) standard.
Cypress CYW43907 SoC
The Cypress CYW43907 SoC is based on 320-MHz ARM Cortex-R4 RISC (reduced instruction set computing) processor and integrates dual-band IEEE 802.11b/g/n Wi-Fi. The SoC features 2 MB (megabyte) SRAM (static random access memory) to run applications and PMIC (power management integrated circuit) to optimize energy consumption.
The SoC is used in Samsung's (SSNLF) ARTIK 050 IoT platform for smart home appliances and industrial electronic devices. The SoC helps ARTIK 050 connect various IoT devices to cloud applications in a secure manner.