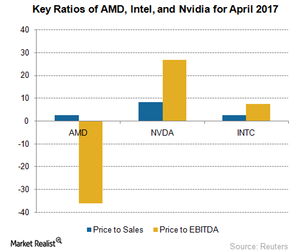 What Key Ratios Say about AMD's Valuation
By Puja Tayal

Updated
Analysts divided over AMD
Advanced Micro Devices (AMD) stock has witnessed exponential growth over the past one-year period, with a 400% increase in its stock price. It is currently hovering above $13. Although the stock price has grown significantly, the company has continued to post losses.
While some analysts believe the stock price would continue to rise, Goldman Sachs believes that the stock would fall to $11 and remain there until some strong growth is visible in the earnings. Let's look at some key ratios and understand how AMD is valued.
Article continues below advertisement
Price-to-sales ratio
As AMD has been posting losses and has not given a dividend for years, a good way to value this stock is through its PS (price-to-sales) ratio. This ratio tells us the amount investors are willing to pay for every dollar of a company's sales.
AMD had a PS ratio of ~2.89x on April 20, 2017. This metric was higher than Intel's (INTC) PS ratio of 2.87x, but it was lower than Nvidia's (NVDA) PS ratio of 8.71x.
Price-to-EBITDA ratio
A company's EBIDTA[1. earnings before interest, tax, depreciation, and amortization] shows the outcome of its operating decisions. It removes the effect of any financial decisions in the form of interest paid on debt, the government's decisions in the form of tax rates, and accounting decisions in the form of treating non-cash items like depreciation and amortization.
As AMD has been reporting losses, its price-to-EBITDA ratio stood at approximately -37.0x on April 20, 2017. On the other hand, Intel and Nvidia had price-to-EBITDA ratios of ~7.6x and ~28.1x, respectively. AMD looks to return to positive an EBITDA ratio in 2017.
Overall, growth investors may view AMD as attractive on the revenue front. On the other hand, dividend seekers may consider Intel attractive on the profit front.