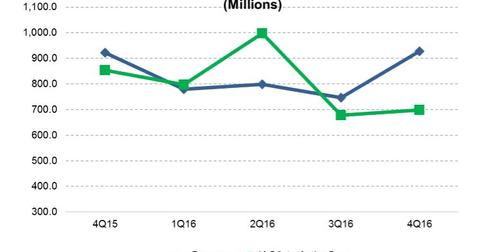 What Could Groupon Achieve with Joey Levin on Board?
By Neha Gupta

Updated
Groupon hands board seat to Levin
Last month, Groupon (GRPN) said that it had tapped Joey Levin, the CEO of IAC/InterActiveCorp (IAC), to be a member of its board of directors. What can Groupon achieve with Levin on its board that it couldn't without him?
Groupon's CEO, Rich Williams, offered a glimpse of what the company expects from Levin. He talked about Levin's contributing "deep strategic marketing experience" and "strong perspective in consumer technology" to the board. Groupon's board chair, Eric Lefkofsky, said that Levin brings knowledge that could help Groupon succeed as a fast-moving, customer-focused operation.
Article continues below advertisement
IAC stock up 58%
Perhaps looking at what Levin has done at IAC would be the best way to understand how his coming to Groupon could impact the daily deals company.
While Groupon stock has fallen in the last year, IAC has risen more than 58% in the same period. While Groupon has largely struggled to cut its expenses, IAC has been bringing its operating expenses under control. 
The chart above illustrates how Groupon's and IAC's operating expenses have trended over the last five quarters.
Ideas on overcoming competition
Levin could also contribute insight on how Groupon can succeed in overcoming competition from well-established brands such as Yelp (YELP), eBay (EBAY), and Amazon (AMZN). IAC has done fairly well in building strong brands in highly competitive segments, and that's a lesson Groupon needs to learn as it seeks to create value for its shareholders.