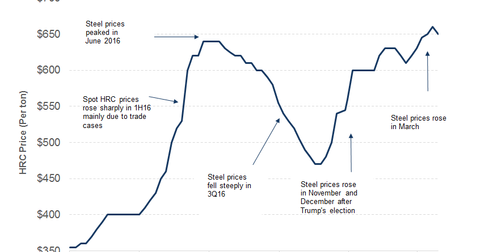 What Could a Blanket Import Tax Mean for US Steel Industry?
By Mohit Oberoi, CFA

Apr. 25 2017, Updated 9:09 a.m. ET
US steel industry
Trade actions have been a key driver for US steelmakers over the last few years. For instance, last year, the United States (SPY) (SPX-INDEX) imposed duties on flat-rolled steel imports from several countries including China and South Korea. US steelmakers capitalized on these duties, and we saw a steep rally in US flat steel prices in 1H16.
Article continues below advertisement
Steel producers
US steelmakers including U.S. Steel (X), AK Steel (AKS), and Nucor (NUE) stand to gain from duties against imported steel products, as they help them protect their turf from foreign steelmakers. However, we also need to consider the downstream steel fabricators. Steel buyers including appliance makers and homebuilders bring down their production costs with lower-priced imported steel. There is not much difference in steel whether it's produced in the US or China, at least for the more commodity-grade steel products. However, one could argue that the steel produced in the US or other developed countries is produced with less environmental damage due to stringent environmental regulations in these regions.
Steel buyers
According to the American Journal of Transportation, quoting AIIS (American Institute for International Steel) president Richard Chriss, "Free trade in steel means that Americans pay global market prices." He added, "While this competition may indeed reduce the profits of domestic manufacturers, other steel-related businesses and consumers benefit from not having to pay the artificially high prices that would result from measures that restrict trade."
In our view, the Trump administration might have to find a middle ground to support both steel producers and steel buyers. A blanket import tax could drive up US steel prices, which would harm US steel buyers.
In the next article, we'll see how global events affected US steel companies (MT) last week.