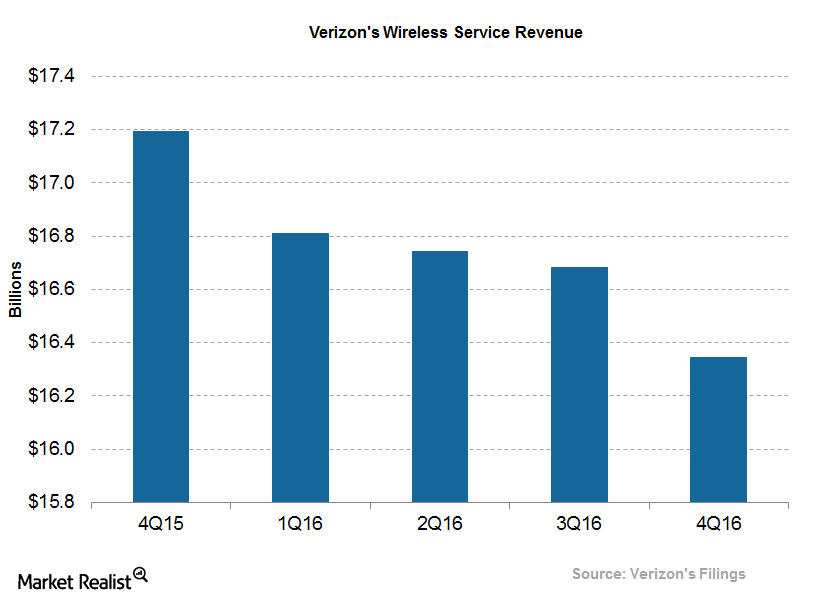 What Can We Expect from Verizon's Wireless Revenue in 1Q17?
Verizon's wireless service revenue
Let's look at the two significant components of Verizon's (VZ) wireless revenue. The bigger portion is the company's wireless service revenue, and the smaller portion is its wireless equipment revenue.
The falling trend in Verizon's wireless service revenue is expected to continue in 1Q17. In 4Q16, Verizon generated wireless service revenue of $16.3 billion, a 4.9% fall year-over-year (or YoY).
About 67% of postpaid phone customers are now on unsubsidized pricing plans, compared to 60% in 3Q16. As the penetration of unsubsidized plans rises, Verizon's service revenue should improve. Its wireless service revenue growth is expected to stay negative in 2017, with positive growth beginning in 2018.
Verizon generated total equipment revenue of $5.7 billion in 4Q16, a 6.2% rise YoY. The rise Verizon's equipment revenue has been driven by a 77% take rate for its equipment installment plans as it makes a complete move to installment plans.
Article continues below advertisement
Peer revenue comparison
Verizon generated total revenue of $32.3 billion in 4Q16, a 5.6% fall YoY. In comparison, Verizon's major competitors AT&T (T) and Sprint (S) had a much better quarters.
AT&T's total revenue fell just ~0.7% YoY to reach $41.8 billion in 4Q16, whereas Sprint's total revenue rose ~5.5% YoY to reach $8.6 billion in 4Q16. Meanwhile, T-Mobile's (TMUS) total revenue rose ~23.4% YoY to reach ~$10.2 billion in 4Q16.