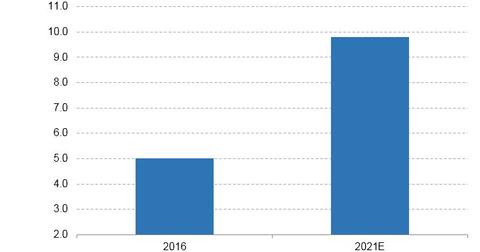 What Awaits Netflix in Europe?
By Ruchi Gupta

Apr. 20 2017, Updated 8:07 a.m. ET
A glimpse of European opportunity
The market for subscription video services in Europe (EFA) is projected to expand by almost $1 billion annually for the next five years, according to research firm ReThink Technology Solutions. This forecast offers a glimpse of Netflix's (NFLX) market opportunity in the region.
Europe was one of Netflix's early international markets when the company launched its overseas service. Netflix began its European expansion in 2012, entering the UK (EWU), Denmark, and Finland.
Netflix (NFLX) is estimated to have ~19.0 million subscribers in Europe. ReThink Technology Solutions projects this number to grow to 45 million by 2021. Netflix finished 2016 with 93.8 million subscribers worldwide.
Article continues below advertisement
A nearly $10 billion opportunity
ReThink Technology Solutions estimates the current SVOD[1. subscription video-on-demand] market in Europe to be ~$5.0 billion. The firm sees the market growing to $9.8 billion by 2021, suggesting that the market could expand by ~$4.8 billion in the next five years. The chart above shows the illustration of the growth forecast by ReThink Technology Solutions.
EU taking down barriers
In a move that could help Netflix accelerate penetration of the European market, officials in the European Union (EZU) have begun taking down barriers to the subscription video industry. For example, the EU recently moved to allow subscribers to online video services like Netflix to access those services without restrictions anywhere they travel within the Eurozone. 
The Eurozone comprises 28 countries and ~500 million people. The EU has also removed roaming charges for mobile phone users traveling within the region.
In a business that involves challenging incumbent television broadcast companies and trying to stay ahead of equally aggressive peers such as Amazon (AMZN), such regulatory easing is favorable to Netflix's ambitions in Europe.