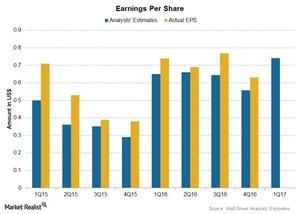 What Analysts Expect of Bristol-Myers Squibb's 1Q17 Earnings
By Mike Benson

Updated
A look at Bristol-Myers Squibb
Headquartered in New York City, Bristol-Myers Squibb (BMY) is an American pharmaceutical company that deals with innovative medicines for patients with serious diseases in therapeutic areas such as virology, oncology, cardiovascular therapy, neuroscience, and immuno-science.
Bristol-Myers Squibb is set to release its 1Q17 earnings on April 27, 2017. Analysts expect EPS (earnings per share) of $0.74 and revenue of $4.7 billion for the company in 1Q17, compared to $4.4 billion in 1Q16.
Article continues below advertisement
Revenue estimates
Analysts expect BMY's 1Q17 revenue to rise ~8% to $4.7 billion. Its revenue rise is expected to be driven by its Oncology, Immuno-Science, and Cardiovascular segments, including drugs such as Eliquis, Opdivo, and the hepatitis C franchise. The Virology and Neuroscience segments are expected to report lower sales due to the weak performances of HIV treatment products, hepatitis B products, hepatitis C products, and Abilify. What can investors expect from the company's 1Q17 earnings?
Profitability estimates
Analysts' estimates show a gross profit margin of 73.6% for BMY in 1Q17, a 2.5% contraction compared to its gross profit margin in 1Q16. Also, due to the fall in its research and development expenses and its lower selling, general, and administrative expenses as a percentage of its total revenue, the company's EBITDA (earnings before interest, tax, depreciation, and amortization) margin is expected to expand to 31.5% in 1Q17, compared to 30.6% in 1Q16. Its net adjusted income is expected to rise to ~$1.3 billion in 1Q17.
To divest risk, investors can consider ETFs such as the iShares S&P Global Healthcare ETF (IXJ), which holds ~2.1% of its total assets in Bristol-Myers Squibb. IXJ also holds 2.1% of its total assets in Gilead Sciences (GILD), 4.4% in Merck & Co. (MRK), and 2.5% in AbbVie (ABBV).