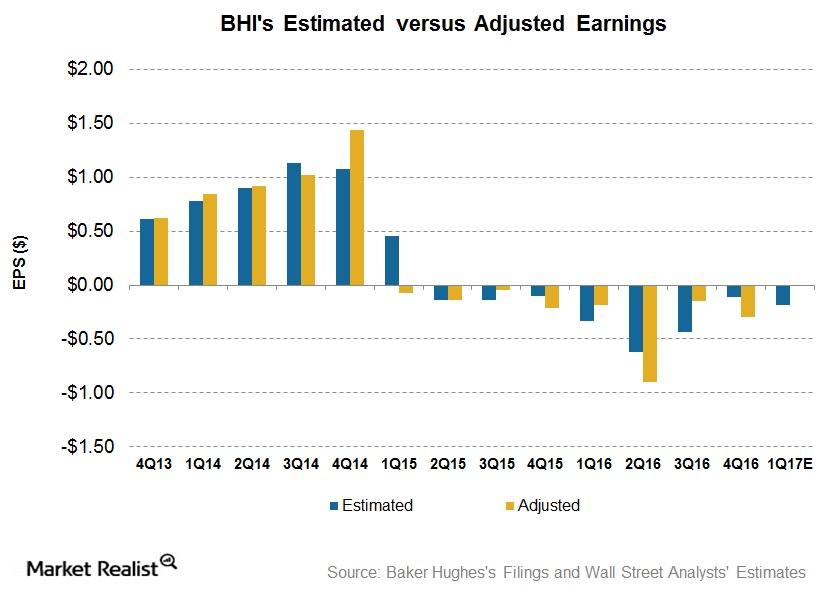 What Analysts Expect from Baker Hughes's 1Q17 Earnings
Baker Hughes's earnings
In 1Q17, analysts expect an adjusted loss of ~$0.19 per share for Baker Hughes (BHI). This means Wall Street analysts expect BHI's adjusted loss to improve 38% in 1Q17 compared to its 4Q16 adjusted loss of $0.30 per share. BHI is expected to release its 1Q17 financial results on April 25, 2017.
The reactivation of rigs in the US and higher well construction product sales in North America could improve Baker Hughes's 1Q17 earnings. However, persistent pricing pressure and weather slowdowns in some of BHI's international operations could limit its earnings.
From 4Q15 through 4Q16, BHI's adjusted net loss per share deteriorated further. Compared to 3Q16, its 4Q16 adjusted net loss nearly doubled.
Article continues below advertisement
Baker Hughes's earnings versus estimates
In 4Q16, Baker Hughes's adjusted EPS fell short of analysts' consensus EPS. BHI's average adjusted EPS fell short of its consensus EPS by ~8% in the past 13 quarters, as noted in the chart above.
Baker Hughes comprises 0.11% of the iShares Russell 3000 ETF (IWV). The energy sector makes up 6.1% of IWV, which tracks the Russell 3000 Index (RUA-INDEX). The RUA-INDEX increased 16% in the past year.
Analysts' estimates for BHI's peers
Analysts expect Schlumberger's (SLB) 1Q17 adjusted earnings to decline marginally compared to its adjusted 4Q16 earnings. You can read more about what can be expected of SLB's earnings in Market Realist's Analyzing Schlumberger's Earnings prior to Its 1Q17 Results.
Weatherford's (WFT) 1Q17 adjusted earnings are expected to improve to -$0.29 compared to -$0.32 in 4Q16. Analysts expect Fairmount Santrol Holdings's (FMSA) 1Q17 adjusted EPS to improve to -$0.03 from -$0.09 in 4Q16.
You can learn more about Wall Street analysts' estimates on the oilfield services companies in Oilfield Services Stocks: Wall Street's Best and Worst for 1Q17.
Series highlight
In this series, we'll discuss Baker Hughes's management guidance, its value drivers and industry indicators affecting BHI's performance, and analysts' target prices for BHI. Next, we'll discuss how BHI's management outlook transpired in the past few quarters.