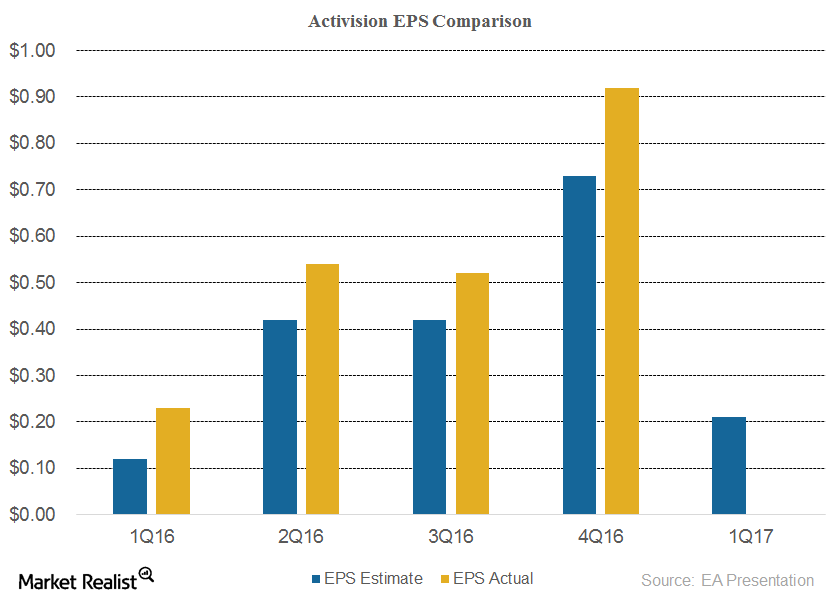 What Analysts Can Expect from Activision's 1Q17 Earnings
Activision's 1Q17 earnings
US-based (SPY) Activision (ATVI) plans to announce its 1Q17 results on May 4, 2017. Analysts estimate that the company could post revenues of $1.09 billion for the quarter, with a low estimate of $1.05 billion and a high estimate of $1.20 billion.
Activision has estimated earnings per share (or EPS) of $0.21, with a high estimate of $0.30 and a low estimate of $0.18. If Activision meets analysts' revenue estimates of ~$1.1 billion, it could mean a YoY (year-over-year) increase of 20.1% compared to 1Q16.
As the chart above shows, Activision (ATVI) beat EPS estimates in 4Q16 by 26% when it announced its EPS of $0.92. Activision beat analysts' EPS estimates in 1Q16, 2Q16, and 3Q16 by 91.7%, 28.6%, and 23.8%, respectively.
Analysts expect ATVI to post revenues of $1.2 billion in 2Q17, ~$6.4 billion in fiscal 2017, and ~$7.1 billion in fiscal 2018.
Article continues below advertisement
Activision posts record revenues in 4Q16
Activision (ATVI) announced its 4Q16 results in February 2017, reporting record revenues of ~$2.0 billion for the quarter ended December 31, 2016. This represented a rise of 49% YoY, compared with ~$1.4 billion in 4Q15. Activision's net income rose 60% YoY to $254 million.
In fiscal 2016, Activision again reported record revenues of $6.6 billion, with non-GAAP[1. generally accepted accounting principles] EPS of $2.18. While its revenues rose 42% YoY, its earnings per share rose 68% YoY in fiscal 2016.