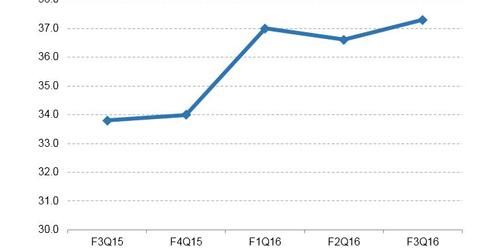 What a $140 Million Patent Infringement Award Could Do for Sprint
By Ruchi Gupta

Updated
Patent infringement lawsuit yields $140 million
In March 2017, Sprint (S) was awarded ~$140 million in damages in relation to the patent infringement lawsuit it brought against Time Warner Cable, which has since sold itself to Charter Communications (CHTR). A jury found Time Warner Cable guilty of intentionally breaching Sprint's patents related to VoIP (voice over Internet protocol).
In addition to Time Warner Cable, Sprint also sued Comcast (CMCSA), Cable One (CABO), and Cox Communications for violating its VoIP patents.
Article continues below advertisement
Easing pressure on the balance sheet
Sprint's heavily leveraged balance sheet shows $37.3 billion in debt against cash and equivalents of $3.7 billion at the end of the December 2016 quarter. In comparison, the $140 million award may seem like a drop in the ocean. However, the cash could help Sprint reduce the pressure on its balance sheet or fund its network upgrade and expansion programs.
Sprint has pumped billions of dollars into network enhancement projects in recent years. This investment allowed it to remain competitive in a market where demand for high-speed Internet access is increasing due to IoT (Internet of Things) devices and online video services. However, these investments have left it largely in debt. The chart above shows how the company's debt has grown over the last five quarters.
Merger and acquisition deals
Sprint has recently been mentioned in potential merger and acquisition deals. Regulators under the Obama administration rejected Sprint's proposal to acquire its rival T-Mobile (TMUS), but the company could try its luck with a similar proposal under the Trump administration. 
Some have noted that cable companies such as Comcast could reach out to T-Mobile or Sprint for a merger deal to fend off such competition. Comcast is among the cable companies expressing concern about carriers such as AT&T (T) encroaching into their industry with media asset acquisitions.