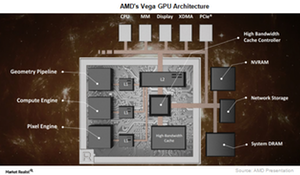 Vega GPU Marks AMD's Return to the High-End GPU Market
By Puja Tayal

Apr. 26 2017, Updated 8:07 a.m. ET
What does Vega GPU have to offer?
In the previous part of this series, we saw that Advanced Micro Devices (AMD) recently launched an upgrade to its Polaris-based GPUs[1. graphics processing units] under the Radeon RX 500 series. These Radeon RX 500 series are no match for Nvidia's (NVDA) most powerful Pascal-based GeForce GTX 1080 and 1080 Ti.
Advanced Micro Devices is set to compete with Nvidia with its new Vega GPU, which is due to launch by the end of 2Q17. The Vega architecture would be more powerful than AMD's Polaris architecture, coupled with its LiquidVR (virtual reality) technology, and Nvidia's Pascal architecture.
Article continues below advertisement
Vega's key ingredient: HBM2 
Vega's performance jump would mainly be driven by its new HBM2 (high-bandwidth memory). Nvidia's Pascal features GDDR5[2. double data rate type five synchronous graphics] memory from Micron Technology (MU). AMD's Polaris uses GDDR5 memory.
When coupled with LiquidVR technology, Advanced Micro Devices's (AMD) Polaris architecture can deliver improved VR performance. However, it's still not capable of delivering VR-based, fully immersive gaming performance. This performance is possible through Vega, which features HBM2.
HBM2 VRAM (video random access memory) is based on 3D architecture and stacks four memory chips vertically, whereas the GDDR5 is based on the older 2D-planar architecture. The challenge presented by GDDR5 is that its memory is located far from the GPU, and longer wires are required to connect the two components. As more signals are passed through these wires, the more power is required.
HBM2 brings memory closer to the GPU, and the memory stacks are interconnected using through-silicon vias, which reduce power consumption and make the GPU faster. As signals can be transmitted more quickly, it can deliver an immersive VR experience.
Rumor: AMD may launch seven variants of the Vega GPU
An article in Phoronix reported rumors from unnamed sources that seven Vega GPU IDs were found in AMD's latest Linux driver patch. This indicates that the company could launch seven variants of the Vega GPU.
In its most recent announcement, AMD stated that it would launch four GPUs—one RX Vega GPU for gaming, one Instinct MI25 Vega GPU for artificial intelligence applications, and two Radeon Pro Vega GPUs for professionals. According to the rumor of seven GPUs, three Vega GPUs remain.
There is a possibility that AMD may launch three Vega GPUs each for professionals and gamers, and it may launch different versions based on performance.
Regardless of how many Vega versions AMD launches, we believe that one thing is certain—this GPU would put the company ahead of its rival Nvidia and help it regain its platform leadership. We'll explore this in the next article.