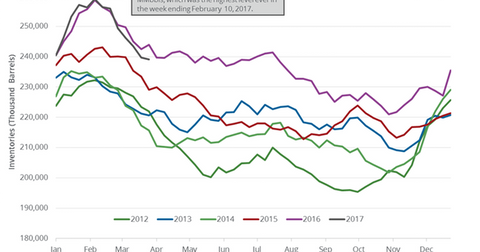 US Gasoline Inventories Fell for the Seventh Straight Week
By Gordon Kristopher

Updated
US gasoline inventories  
The EIA (U.S. Energy Information Administration) reported that US gasoline inventories fell by 0.6 MMbbls (million barrels) to 239.1 MMbbls from March 24–31, 2017. A market survey estimated that US gasoline inventories would have fallen by 1.4 MMbbls from March 24–31, 2017. Gasoline prices fell despite the fall in gasoline inventories on April 5, 2017.
US gasoline inventories hit 259.1 MMbbls for the week ending February 10, 2017—the highest level ever. US gasoline inventories are 8% below their all-time high. US gasoline inventories fell for the seventh straight week. As a result, US gasoline futures are near a 19-month high. Crude oil (ERX) (USL) (FXN) and gasoline prices usually move together, but they diverged on April 5, 2017.
Moves in gasoline and crude oil prices impact oil producers and refiners' profitability like Western Refining (WNR), Devon Energy (DVN), Phillips 66 (PSX), Stone Energy (SGY), and Carrizo Oil & Gas (CRZO). For more on crude oil and gasoline prices, read Part 1 and Part 5 of this series.
Article continues below advertisement
Gasoline production, imports, and demand  
US gasoline production fell by 513,000 bpd (barrels per day) to 9,515,000 bpd from March 24–31, 2017. Production fell 5.1% week-over-week and 1.1% year-over-year. US gasoline imports rose by 86,000 bpd to 607,000 bpd during the same period. Gasoline demand fell by 279,000 bpd to 9,245,000 bpd.
Impact of gasoline inventories  
For the week ending March 31, 2017, US gasoline inventories are near the upper end of the five-year range. High gasoline inventories could pressure gasoline and crude oil prices.
In the next part of this series, we'll take a look at US distillate inventories.