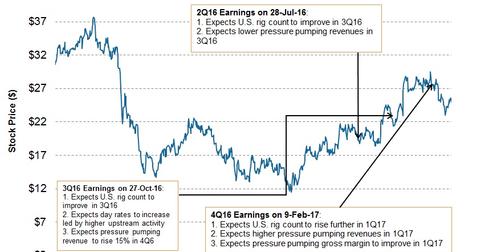 Understanding Patterson-UTI's Management Vision for 2017
By Alex Chamberlin

Updated
What PTEN's management thinks
Patterson-UTI Energy's (PTEN) management believes that 2017 will see positive momentum for the company, led by higher drilling and pressure pumping activity. This recovery started for the OFS (oilfield equipment and services) industry in 4Q16.
In the 4Q16 press release, PTEN Chairman Mark S. Siegel noted: "With the industry land rig count approximately doubling from the trough, we are encouraged by the recent uptick in activity and pricing and believe 2017 will be an exciting year for Patterson-UTI."
Below is a breakdown of PTEN's management outlook for 1Q17:
Article continues below advertisement
PTEN's operated average US rig count is expected to have risen 21% in 1Q17 compared to 4Q16.
The management estimates that PTEN can potentially upgrade 39 additional 1,500 horsepower APEX rigs to super-spec (high-specification) rigs.
PTEN expects pressure pumping revenues to have risen 25% in 1Q17 over 4Q16.
Pressure pumping gross margin is expected to increase into the low teens.
What's PTEN's rig count and contract outlook?
PTEN's drilling backlog was $417 million on December 30, 2016, representing a 41% fall from the previous year. PTEN's management expects ~29% of this 2016 backlog to remain after 2017. Backlog in calculated by multiplying the day rate under term drilling contracts by the number of days remaining under the contract. In 1Q17, the management expects PTEN's rig count to have increased 21% over 4Q16.
Notably, Patterson-UTI Energy makes up 0.02% of the iShares Russell 3000 ETF (IWV), while the energy sector makes up 6.2% of IWV. IWV tracks the Russell 3000 Index (RUA-INDEX), which consists of 3,000 large companies in the US. RUA-INDEX has risen 15% in the past year.
Now let's discuss what Wall Street analysts expect from PTEN's earnings in 1Q17.