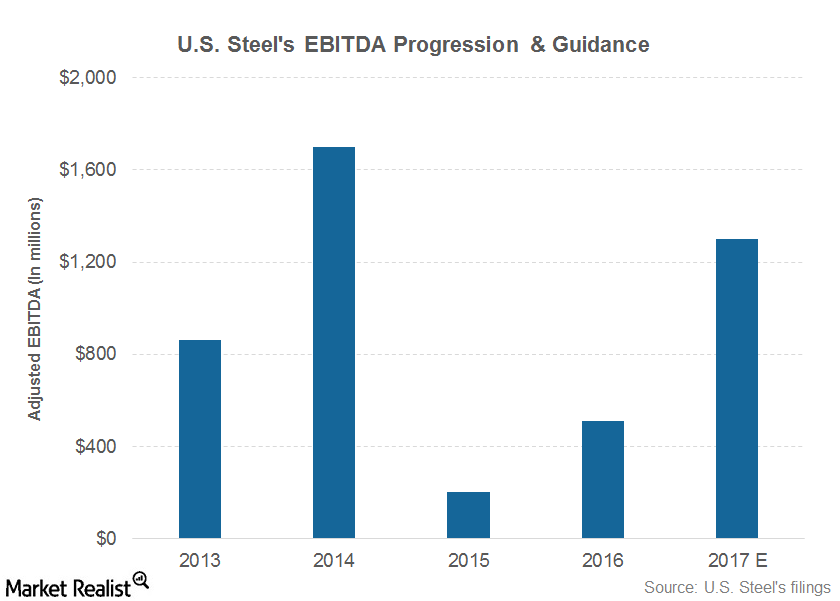 U.S. Steel's 2017 Guidance: What Investors Should Expect
2017 guidance
Previously, we looked at U.S. Steel Corporation's (X) 1Q17 earnings estimates. To sum it up, the company's 1Q17 profitability is expected to rise in the quarter on the back of higher steel prices (MT) (NUE).
Along with its quarterly performance, analysts closely follow U.S. Steel's annual EBITDA (earnings before interest, tax, depreciation, and amortization) guidance during its earnings calls.
Article continues below advertisement
EBITDA guidance
U.S. Steel has seen wild price swings as well as re-ratings by Wall Street analysts as it's revised its EBITDA guidances during its earnings conference calls.
During its 4Q16 earnings call, U.S. Steel guided for EBITDA of $1.3 billion for 2017. U.S. Steel's guidance assumes constant commodity prices (AKS) (STLD), which holds true for steel and raw material prices. The company's guidance also accounts for some other headwinds such as higher maintenance costs.
What to expect
Looking at the current dynamic, while US steel prices have strengthened somewhat since U.S. Steel's last earnings release, we've seen weakness in other regions. Coal prices have also seen significant volatility. While coking coal prices fell earlier in the year, we've recently seen a sharp rally in spot prices on supply disruptions.
We saw a similar spike in coal's price last year, but prices fell as supply came back online. The markets will closely follow U.S. Steel's 2017 guidance to access the company's earnings capacity under the current market dynamic. Higher-than-expected guidance could also help lift U.S. Steel's sagging stock price.
In the next and final part of this series, we'll see what analysts are recommending for U.S. Steel this earnings season.