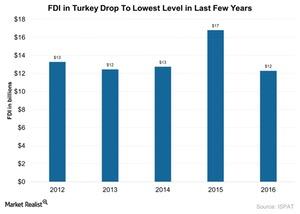 Turkish Foreign Investment Fell as Political Tensions Escalated
By Mary Sadler

Apr. 21 2017, Updated 6:05 p.m. ET
Foreign direct investment
Turkey attracted $12.3 billion in foreign direct investment (or FDI) in 2016, higher than expected considering the latest developments in Turkey (TUR) and the neighboring region.
Turkey's economy minister, Nihat Zeybekci, said that the government aims to grow the country's GDP by attracting more FDI. Let's look at Turkey's FDI over the last few years.
Foreign direct investment in Turkey fell ~44% in 2016 compared to 2015. Turkey faced multiple economic and political issues ranging from a failed coup in July 2016 to structural economic problems. These issues resulted in reduced foreign direct inflow into the country in 2016.
In September 2016, Standard & Poor's (SPGI) also downgraded Turkey's credit rating to "junk," below speculative/non-investment-grade, suggesting it's a risky investment for foreign investors.
As per the World Investment Report 2016, Turkey was an attractive destination for FDI inflows in 2015, ranking 20th. Turkey reported an FDI inflow of $16.5 billion in 2015. In the last five years, the intermediation and manufacturing sectors have attracted the highest amounts of FDI into Turkey.
Article continues below advertisement
Likely state of emergency post-referendum
The presidential government system is expected to bring about a radical restructuring of Turkey's governance and institutional framework. Following his recent win in the presidential referendum, President Recep Tayyip Erdoğan will have to win the election in 2019 to carry out all of the proposed reforms.
Until the elections are conducted, a state of emergency is likely to be extended, reducing the prospect of reforms. Hence, FDI flow is expected to be low in the next couple of years until legal and structural economic reforms are completed. FDI flows are crucial to economic recovery, as they're expected to generate positive productivity effects, including output and employment for host nations.
The iShares MSCI Turkey ETF (TUR) fell ~10% amid political and financial turmoil in the region (GAF) (GULF) in 2016. The iShares MSCI Emerging Markets ETF (EEM) rose ~8% in 2016.
Let's look at the growth outlook for Turkey in the next article.