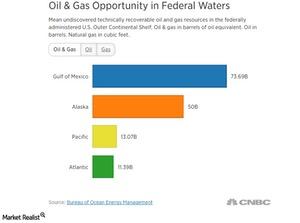 Trump Plans to Expand Offshore Drilling in Arctic, Atlantic
By Sue Goodridge

Apr. 10 2017, Updated 12:15 p.m. ET
Opening icy waters
President Donald Trump is preparing an executive order to open new areas of the Arctic and Atlantic oceans to oil and gas drilling. Trump is working on the order just months after former President Barack Obama banned Atlantic and Arctic offshore drilling.
Article continues below advertisement
Flashblack
In December 2016, Obama indefinitely blocked drilling in vast swaths of US waters. Under a provision in 1953 law, the president could withdraw US waters from future oil and gas leasing. On the same day, Canada also imposed a five-year ban on all oil and gas drilling in the Canadian Arctic. The ban was imposed to handle environmental issues. According to environmentalists, industrial activity in the Arctic will harm whales and other wildlife and increase the threat of global warming.
Former President George H.W. Bush used a similar provision to withdraw oil and gas leasing in large waters off the West Coast, the North Atlantic, and southern Florida. But this measure only lasted a decade. Former President Bill Clinton expanded and extended Bush's withdrawals.
Present
Trump's order could begin the process of undoing Obama's actions. According to reports, Trump himself would most likely have to approach a court to remove the ban. If this ban were successfully removed, we would see the sale of new offshore oil and gas rights in the Arctic and Atlantic. The US Arctic is estimated to hold 27 Bbbl (billion barrels) of oil and 132 Tcf (trillion cubic feet) of natural gas. This move could benefit energy companies (XOP) like Royal Dutch Shell, Chevron Corp (CVX), Exxon Mobil (XOM), and Statoil. This move could also benefit offshore drilling companies such as Seadrill (SDRL), Transocean (RIG), Diamond Offshore (DO), and Noble (NE).
In the next part of this series, we'll see the current state and outlook for the offshore drilling industry.