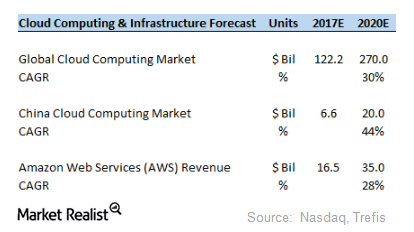 Transparency: How Microsoft's and Peers' Cloud Offerings Stack Up
By Anne Shields

Apr. 20 2017, Updated 6:36 a.m. ET
Amazon is the only player that provided cloud revenue
Earlier in this series, we discussed leading technology players' growth in the cloud space and run rates. Amazon rules the cloud space. In fiscal 2016, Amazon's (AMZN) AWS (Amazon Web Services) grew 55% YoY (year-over-year) to ~$3.53 billion. It reported operating profit of $926 million. It is important to note that Amazon discloses cloud revenue, unlike peers. In its last fiscal quarter, Microsoft (MSFT) disclosed that its Commercial Cloud segment's run rate exceeded $14 billion.

Article continues below advertisement
Amazon ranks highest in terms of growth transparency
Before we delve into the reason for our emphasis on run rate, let's understand how cloud offerings by various players differ from each other. Microsoft's Commercial cloud business comprises Office 365 Commercial, Azure, Dynamics 365, and other cloud offerings. Microsoft does not specify Azure's contribution, and unlike AWS, it plugs into the hybrid cloud.
IBM, on the other hand, includes SaaS (software-as-a-service), PaaS (platform-as-a-service), and IaaS (infrastructure-as-a-service) in its as-a-service run rate. It grew 53% to $8.6 billion. Watson and cognitive solutions, global business and technology services, and the cloud platform business segment contributed $1.8 billion, $1.1 billion, and $5.8 billion, respectively, towards its run rate. Though IBM does not provide as much transparency as Amazon does, its reporting provides an estimate of its transition towards cloud and Watson.
Google's cloud platform is a combination of apps and ML (machine learning), which can be viewed as a compelling offering. It is also betting on AI (artificial intelligence) powered web services to increase the appeal of its cloud platform. Alphabet (GOOG) doesn't report its cloud revenue. However, the company said that revenue in the unit in which Google Cloud falls rose 39% to $2.4 billion in 3Q16. ML and AI are expected to drive $2 trillion in spending during the next new computing cycle. In the enterprise SaaS space, Google and Oracle (ORCL) reported the highest growth.
We've emphasized actual revenue because the annualized revenue run rate is an estimated figure. It is calculated by multiplying a company's cloud revenue in the final month of the quarter by 12.