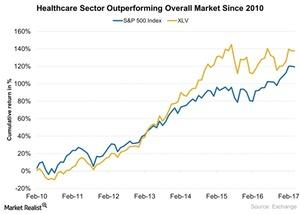 The Larger Aims of Obamacare: An Overview
By Mary Sadler

Apr. 11 2017, Published 3:29 p.m. ET
How much overhaul does the ACA need?
The US did not have not have a uniform healthcare system until the advent of the ACA (Affordable Care Act) in 2010. The ACA, also known as Obamacare, embodies legislation mandating healthcare coverage for nearly everyone in the US. The two immediate changes after the ACA passed included the following:
all uninsured US citizens would be provided the option of health insurance
all healthcare providers would be reimbursed based on care outcomes
Notably, according to Obamacare architect Dr. Ezekiel Emanuel, the ACA has actually been successful—to an important extent, at least—and Emanuel thinks that the Trump administration is well-placed to make key improvements to the ACA to make it even more successful. But Emanuel believes that any overhaul in the ACA should work toward building a healthcare system with better quality and lower costs.
Emanuel also believes that the opportunities for investments in the healthcare sector (IHE) (XBI) lie in the following subsectors:
primary care
mental healthcare
palliative care
Article continues below advertisement
Healthcare sector performance
As the above chart shows, the Health Care Select Sector SPDR ETF (XLV) sector has outperformed the market for the past six years. Since the ACA has been enforced, XLV has posted gains of about 138%, as compared to the S&P 500 Index's (SPY) (SPX-INDEX) gains of about 119% during the same period. But XLV dropped 4% in 2016, as compared to SPY's gains of about 10% for the year.
Now, after a weak performance in 2016, XLV has bounced back in 1Q17, surging by 8%, while SPY has only gained about 4% in 1Q17. Specifically, medical device makers Align Technologies (ALGN), Abbott Laboratories (ABT), and Boston Scientific (BSX) rose ~19%, ~13%, and ~13%, respectively, in 1Q17.
In the next and final part of this series, we'll assess some of the expected changes in the ACA, according to Dr. Emanuel.