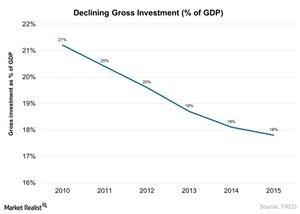 The Boon of Tax Reform and Infrastructure Spending: More Than Just High Hopes?
By Mary Sadler

Dec. 4 2020, Updated 10:50 a.m. ET
Tax reforms in 2017
President Trump is expected to submit a tax reform and infrastructure spending package to Congress in 2017, and the kinds of tax reforms he has talked about will be aimed at increasing business investments in the US, lifting productivity growth, and boosting employment opportunities—all great goals, if they can come to fruition. Below, we'll discuss the specifics of these goals.
Article continues below advertisement
Business investments
Business investments in the US have been declining for the past few years, with investments as a share of GDP having fallen in 2015 to its lowest level (18%) since 2012. To address this issue, Republicans are proposing a tax reform plan that would lower the corporate tax rate to 20% from 35%. President Trump campaigned on a proposal to reduce the tax to 15%, touting that he would spend $1 trillion on infrastructure in an effort to create more job opportunities in the US.
According to John Mack, Morgan Stanley's former head, the Trump administration will need to cut some programs and add other programs to his tax reform package to achieve the above goals. Mack believes that some oil and gas subsidies and farm subsidies could be excluded to make way for alternate energy, while the money saved from withdrawing foreign aid could be diverted to sectors with growth opportunities.
Article continues below advertisement
Potential impact of reforms
To be sure, the expectation of corporate tax cuts and spending on infrastructure projects helped boost the stock market after Trump won the election in November 2016. As of April 2017, the S&P 500 index (SPX-INDEX) and Dow Jones Industrial Average index (DJIA-INDEX) have gained 10% and 13%, respectively, since the win, though these gains appear to have stalled in the first month of 2Q17, following Trump's failed attempt at healthcare reform.
Still, Republicans' proposed US tax reforms are expected to benefit sectors financials (XLF), consumer staples (XLP), and industrials (XLI). The financial sector, with its high effective tax rates, would be among the biggest beneficiaries of tax cuts in 2017, while consumer staples and industrials companies, with their high domestic production operations and exports, would also benefit greatly from lower taxes and subsidies in 2017.
We'll take a closer look at the technology sector in the next part.