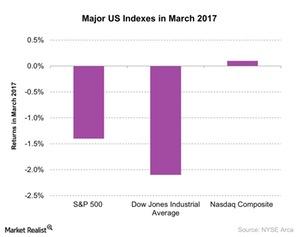 Why the S&P 500 Index Had a Weaker Performance in March 2017
By Sarah Sands

Updated
The S&P 500 Index in March 2017
The S&P 500 Index (SPY) (QQQ) showed a weaker performance in March 2017 with returns of nearly -1.4%. The Dow Jones Industrial Average (DIA) and the NASDAQ Composite (COMP-INDEX) returned nearly -2.1% and 0.1%, respectively, in March 2017.
Since the US elections in November 2016, the markets have seen a strong movement. The following factors had a positive impact on market sentiment:
President Donald Trump's proposed policy changes
the expectation of higher fiscal stimulus
expected deregulation
However, the weaker performance in March 2017 was mainly due to the increasing concerns about the economy (VFINX). The delay in policy reform is worrying some investors. Some investment firms are waiting for a change in policy so they can reevaluate their positions accordingly.
In March 2017, the market showed some pullback. President Trump's efforts to replace the Affordable Care Act are failing so far, which has weighed on the index. Prominent investment strategist and vice chair of Blackstone Advisory Partners, Byron Wien, said, "The market was due for a correction."
He also said, "The market had gone up almost every day since the election. And it was based on Trump being able to implement his pro-growth agenda." Wien continued, "It's correcting because maybe Trump won't be as successful in implementing legislation as he promised."
In the next part of this series, we'll look at expectations for the S&P 500 Index in April 2017.
Article continues below advertisement