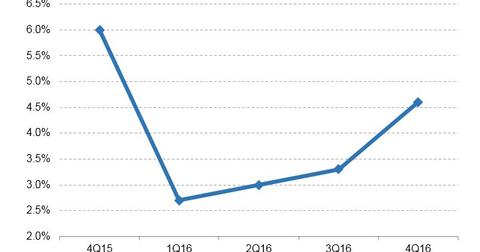 Small Achievements That Could Boost Twitter
By Neha Gupta

Apr. 14 2017, Updated 8:08 a.m. ET
Tepid revenue growth
Amid Twitter's (TWTR) well-publicized struggles to grow revenues and its user base, the company is making small gains. These struggles are among the reasons the company's CEO, Jack Dorsey, is facing pressure to step down. The chart below shows how Twitter's global subscriber growth has trended over the last five quarters.
Article continues below advertisement
Fostering platform engagement
In March 2017, Twitter (TWTR) reported on the progress it's made to make its social media platform safer for users. Online trolling and harassment are among the problems that have hampered user engagement on Twitter. Some users have either become inactive on the platform or closed their Twitter accounts to avoid being harassed.
In our view, signs that Twitter is making progress to rid its platform of toxic users should be welcomed by its user base. The company can prevent user outflow and foster deeper user engagement that can, in turn, attract more advertisers to the site.
Twitter more effective with technology
Twitter (TWTR) noted that it suspended 377,000 accounts in 2H17 due to violations that included activities that promote terrorism. This number implies that the company suspended ~63,000 accounts per month, significantly higher than the ~24,000 accounts it suspended per month in 2H15.
Deployment of technology has made Twitter more effective in dealing with offensive users. The company's proprietary technology helped identify 74% of violations related to support for political or religious violence.
This trend is a sharp reversal from previous periods when the company relied on its users and government authorities to identify bad actors on its platform. The company said it cooperated with governments in Germany (EWG) and Turkey to take down accounts breaking a variety of laws.
In our view, investors would want to see if the platform's cleanup efforts are helping Twitter push back against competitors like Facebook (FB), Snap (SNAP), and Alphabet (GOOGL) in the battle for Internet advertising dollars.