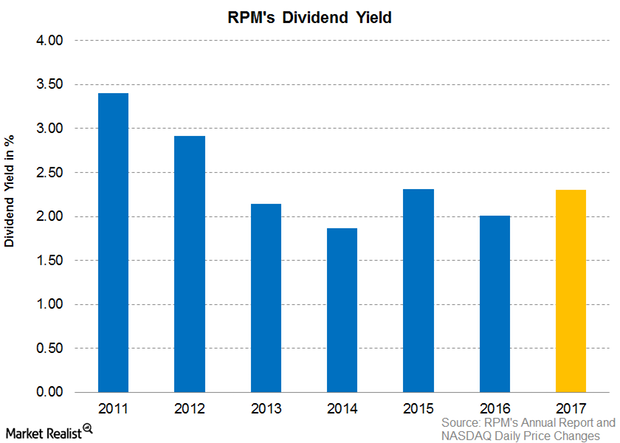 Should RPM Increase Dividends to Maintain Better Dividend Yields?
RPM International's dividend yield
A dividend yield is a measure of a company's annual dividend per share relative to its price per share. It indicates how much cash an investor is getting for every dollar invested in a company's equity. A high dividend yield is a good sign, as it provides investors with a stable income.
On April 13, 2017, RPM International (RPM) stock closed at $49.94. With RPM declaring a 2Q17 quarterly dividend of $0.30 per share, its current dividend yield stands at 2.4%. Peers PPG Industries (PPG), Sherwin-Williams (SHW), and Valspar (VAL) have dividend yields of 1.5%, 1.1%, and 1.3%, respectively.
RPM's dividend yield has fallen from 3.4% in 2011 to its current yield of 2.4%, primarily driven by the increase in RPM's stock price. However, RPM's current dividend yield is higher than the yield on one-year Treasury bills, which has moved up from 0.55% to 1.05%.
Article continues below advertisement
Dividend payout
Dividend payout can be calculated by dividing annual dividend per share by annual earnings per share (or EPS) and is expressed in percentage. This tells the investor what percentage of earning the company is paying out as a dividend.
RPM's dividend payout has largely remained in the range of 57%–41% with the exception in 2013 where the payout was 120%, primarily due to lower earnings. However, since 2011, the payout is on a declining trend, primarily due to the earnings per share outpacing the dividend growth. With a lower dividend payout, RPM will be left with a higher amount to reinvest for future growth.
Investors can indirectly hold RPM by investing in the ProShares S&P MidCap 400 Dividend Aristocrats ETF (REGL), which invests 2.3% of its holdings in RPM as of April 13, 2017.
In the next part, we'll look into analysts' latest ratings for RPM International.