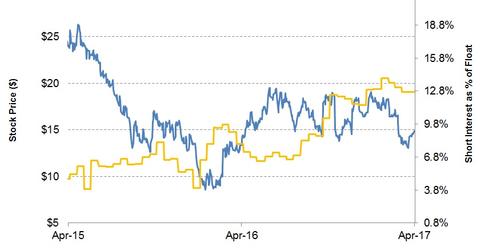 Shorting Superior Energy: Gauging SPN Short Interest as of April 11
By Alex Chamberlin

Updated
Short interest in Superior Energy 
As of April 11, 2017, short interest in Superior Energy Services' (SPN) stock as a percentage of its float was 13.1%, as compared to ~12.9% on December 30, 2016. Since the end of 4Q16, short interest in SPN's stock has risen 2%. As you can see in the graph below, SPN's stock price and short interest as a percentage of its float have been inversely related for the past three years.
Superior Energy makes up only 0.01% of the iShares Russell 3000 ETF (IWV), which tracks the Russell 3000 Index (RUA-INDEX) and consists of 3,000 large companies in the US. The energy sector makes up 6.1% of IWV. Notably, the Russell 3000 Index has risen 15% in the past year, as compared to the 10% rise in SPN's stock price.
Article continues below advertisement
Short interest and stock price
Remember, short interest refers to the number of a company's shares sold short, divided by the number of shares outstanding. A rise in short interest as a percentage of float, or a rise in short interest, indicates that more investors expect the stock's price to fall.
SPN's share price has fallen 13% since December 30, 2016, reflecting an increase in short interest. However, investors should note that the market could go against investor sentiment, and share prices can always increase when investors start buying a stock to cover their short positions.
At the same time, energy stocks are typically correlated with crude oil prices. Continue to the next part for a closer look at SPN's correlation with crude oil prices.