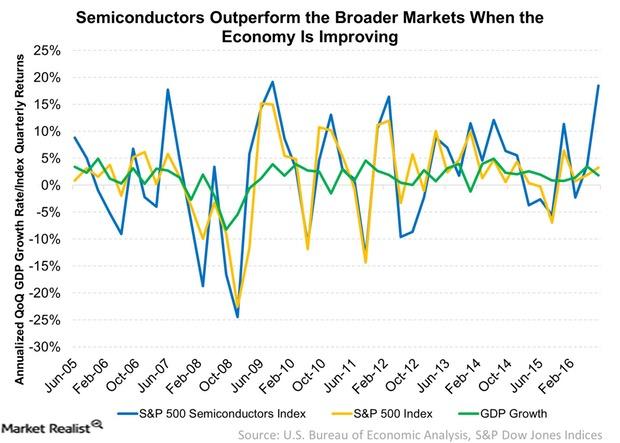 Which Sectors Are Likely to Outperform in the Short Term?
Article continues below advertisement
Semiconductor fundamentals are strong
Note that semis have slightly underperformed the market with a 10.6% gain since the election, but the multiple has not budged. When semiconductor companies reported in January, their forward estimates rose by at least 10% to keep us at the same multiple with a jump in prices. These companies should feel a less direct impact from any changes in Trump's policies. There is no specific regulation in this space, but these companies could benefit from increased demand due to an overall stronger economy.
Sector-by- sector directions (and valuations) matter
It is clear to market observers that sector performance is diverging more than it has in the recent past. But that divergence leads to valuations diverging as well, which in turn leads to opportunity as these sector valuations overshoot and undershoot targets.
Valuations are not an exact science. They involve some degree of forecasting. But getting those moves right can have a considerable impact on returns for any portfolio. Let Direxion help with multiple sector products that provide investors the opportunity to choose several directions at once.
Article continues below advertisement
Market Realist
The semiconductor sector has been shining with chip makers Intel (INTC), Texas Instruments (TXN), and Nvidia (NVDA) seeing robust earnings growth and a solid outlook.
The first graph above compares the quarterly gains of the S&P 500 Index and the S&P 500 Semiconductor Index with their quarter-over-quarter growth in GDP. The semiconductor sector has a correlation of +0.38 with GDP compared to +0.34 for the S&P 500 (SPXL). That means that the semiconductor sector (SOXL) is likely to outperform as the economy improves.
The second graph shows a divergence in PE (price-to-earnings) ratios among the sectors, which suggests that there could be an opportunity. Currently, telecom and financials seem to be reasonably valued. The difference between trailing and forward PE ratios suggests that the market expects robust earnings growth in the technology (TECL), telecom, healthcare (CURE), and materials sectors in the next 12 months.
With Trump hinting aggressive spending on infrastructure, materials and industrials have outperformed since the elections, as you can see in the above graph. Lower leverage and a lot of cash mean that technology stocks are better equipped to navigate through the high interest rate scenario.