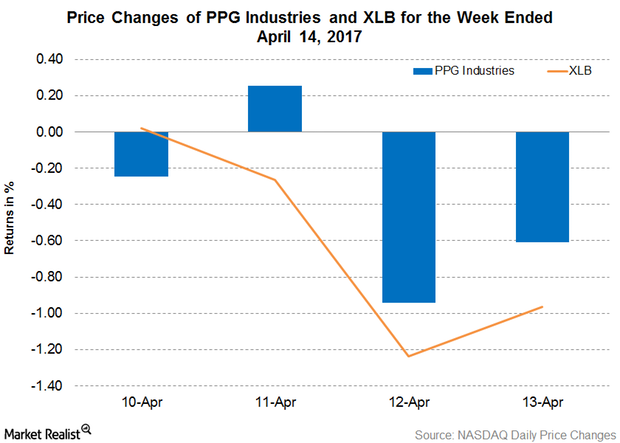 PPG Industries Buys Minority Stake in Taiwan Chlorine Industries
PPG gets 40% of TCI
On April 11, 2017, PPG Industries (PPG) announced that it has acquired 40.0% of Taiwan Chlorine Industries (TCI) from China Petrochemical Development Corporation (CPDC) in an all-cash deal. PPG funded the acquisition with cash on hand.
TCI was formed in 1986 as a joint venture between PPG and CPDC, with PPG holding 60.0%. TCI was started with the focus on producing chlorine-based products in Taiwan. PPG, while separating its commodity chemical business in 2013, transferred ownership interest to Axiall, which was acquired by Westlake Chemical (WLK) in 2016.
When PPG sold a 60.0% ownership interest in TCI to Axiall, CPDC was also granted an option to sell its 40.0% interest in TCI to Axiall for $100.0 million. In April 2016, CPDC opted to sell its 40.0% stake in TCI to Axiall, and in June 2016, Axiall designated PPG to purchase this ownership interest.
Article continues below advertisement
PPG Industries' stock price movement last week
On April 14, 2017, PPG Industries closed at $104.42, falling 1.5% for the week. The Materials Select Sector SPDR ETF (XLB), which holds 4.7% in PPG as of April 14, fell 2.4% and underperformed PPG Industries for the week. PPG's peers Sherwin-Williams (SHW), Axalta (AXTA), and RPM International (RPM) fell 1.5%, 0.90%, and 4.5%, respectively, for the same period.
PPG stock closed 4.2% above its 100-day moving average of $100.21, indicating an upward trend in the stock. Analysts predict PPG's 12-month target price to be $111.90, implying a potential return of 7.2% over the closing price on April 13, 2017. On a year-to-date basis, PPG has risen 10.2%.
PPG's 14-day RSI (relative strength index) of 50 indicates that the stock is neither overbought nor oversold. An RSI of 70 indicates a stock is overbought, while an RSI of 30 indicates a stock is oversold.