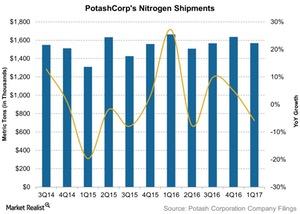 How PotashCorp's Nitrogen Shipments Performed in 1Q17
By Adam Jones

May. 1 2017, Updated 9:08 a.m. ET
Nitrogen shipments
Potash Corporation of Saskatchewan's (POT) Nitrogen segment sales fell ~11% YoY (year-over-year) to $365 million from $412 million in 1Q16. Now let's look at what may have caused this decline.
Article continues below advertisement
Shipment volumes
PotashCorp's nitrogen shipments during 1Q17 fell ~6% YoY to 1.6 million tons from 1.7 million tons in 1Q16. According to the company, shipments were lower due to weakness in seasonal demand and weakness in demand from its industrial customers.
Competition pressures
Unlike its Potash and Phosphate segments, POT's Nitrogen segment is fragmented and has several players supplying nitrogen fertilizers (SOIL) like urea, UAN (urea ammonium nitrate), AN (ammonium nitrate), and ammonia. This fragmentation is primarily because the key inputs required to produce nitrogen fertilizer is widely available. These inputs include natural gas and coal.
Due to the wide availability of key input materials for nitrogen, the pressure on nitrogen players such as PotashCorp, CF Industries (CF), Terra Nitrogen (TNH), Agrium (AGU) has stayed steady.
At the same time, we have to bear in mind that the shipments for nitrogen fertilizers are also impacted due to the proximity of producers. Transportation costs can substantially add the price for the purchaser. We'll discuss this factor further in the next part.