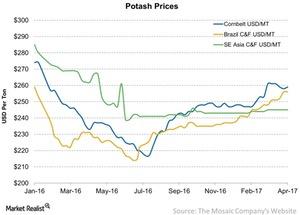 Potash Prices Continued to Recover Last Week
By Adam Jones

Updated
Potash prices
Similar to prices of other fertilizer products that we discussed earlier in this series, potash fertilizers recovered in recent weeks. Let's discuss potash prices for the week ending April 7, 2017, at the three locations below.
Article continues below advertisement
Weekly movement
Potash, which is also known as MOP (muriate of potash), prices have recovered since the low point in July 2016—especially in Brazil and the US Cornbelt. For the week ending April 7, 2017, potash prices in the US Cornbelt region rose by 39 basis points week-over-week to $259 per short ton (or $235 per metric ton).
Last week, fertilizer prices in Brazil remained flat week-over-week at $256 per metric ton. Similarly, prices in southeast Asia were flat week-over-week at $245 per metric ton.
Demand
For 2017, Mosaic (MOS) expects that global potash demand will be 61 million–63 million metric tons. It would be higher than in 2016 when demand estimates were slightly lower than 60 million metric tons. However, while the demand is estimated to grow, excess capacity might impact fertilizer prices.
Key to potash producers
PotashCorp (POT), Intrepid Potash (IPI), Mosaic (MOS), and Israel Chemicals (ICL) benefited from positive moves in potash prices, which are key to producers (MOO). These companies faced severe weakness in the market in 2016. On average, potash prices rose 10% from the same week in 2016.
Next, let's look at how the Fertilizer Affordability Index performed last week.