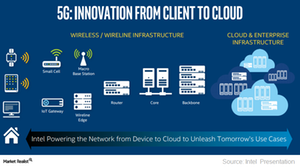 What Opportunities Could the 5G Wave Bring for Intel?
Intel to ride the 5G wave
Intel (INTC) tried its hand at entering the mobile application processor market, but after huge losses and strong competition from Qualcomm (QCOM), it decided to bow out. It's now looking to make it big in the modem business. Though its cable modem is facing some trouble, the modem business will soon be hit by the 5G wave.
In an interview with Light Reading, Intel's DCG (Data Center Group) vice president and Network Platforms general manager, Sandra Rivera, commented on Intel's 5G strategy. In 4G, Intel focused its efforts on both the application processor and the modem. However, for 5G, the company will focus on the modem. Intel leads in the market in defining 5G standards, prototyping, and field trials.
Article continues below advertisement
Intel's 5G modem 
In 2016, Intel unveiled its first 5G modem, which works across lower sub-6GHz (gigahertz) bands as well as very high-frequency bands. The company will conduct trials for its 5G modems in 2H17.
Intel's Rivera stated that the new radio specifications for 5G are expected to be finalized by the end of 2017, the first standardized 5G service is expected to arrive in 2019, and volume shipments of 5G devices are expected to begin in 2020. Intel has already started to see increasing demand in its network business as infrastructure is moving to Intel architecture in preparation for 5G.
Intel's 5G partnership
Rivera stated that, for 5G, Intel would not make the same mistake it made with 4G. Intel had a superior 4G network, but it did not align it with the industry. This time around, Intel has partnered with telecom carriers AT&T (T), SK Telecom, Korea Telecom, and Verizon (VZ).
Intel has also partnered with the world's top three telecom equipment makers, Ericsson (ERIC), Nokia (NOK), and Huawei, to set the technical standards for how 5G will operate. Nokia has completed a "pre-standards" 5G connection using an Intel-powered data center, which Intel refers to as the "5G mobile trial platform."
Nokia, Ericsson, and Intel are working to develop NB-LTE (narrow-band long-term evolution), a low-cost, power-efficient technology ideal for the IoT (Internet of Things) market.
5G brings computing and networking opportunities for Intel
Sandra Rivera stated that the computing and architectural requirements of 5G offer an even bigger opportunity for Intel. Germany's Deutsche Telekom is looking to replace its big data centers with distributed "front-end" facilities, bringing computing to the edge of the network. This replacement would reduce latency in transmitting signals over data networks. Deploying computing power across the network could drive demand for Intel's data center products. Next, we'll look at Intel's DCG.