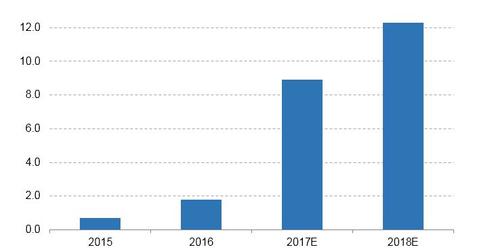 Oculus Price Cut: What It Says about Facebook's VR Strategy
By Ruchi Gupta

Updated
A $100 discount on the headset
Facebook (FB) recently lowered the price of its Oculus Rift, a VR (virtual reality) device. The Rift headset cost $600 when it launched, and now it costs $500, a $100 discount. Facebook has also cut the price of the Rift controller to $100 from $200. Rift is produced by Facebook's Oculus VR subsidiary.
Facebook hopes the price cut will bring Rift within reach of many consumers who may have been left out by earlier pricing. The move could also make Rift more competitive in the VR hardware market where it's vying for customer attention against PlayStation VR from Sony (SNE) and Vive from HTC.
Sony's PlayStation VR costs $400 without controllers, and it works with the PlayStation 4 console, which costs ~$500. HTC's Vive, on the other hand, costs $800 and includes a controller.
Article continues below advertisement
Worldwide VR market
The Rift price cut shows that Facebook is making money from its VR hardware sales. It seems to be willing to sacrifice short-term profits so it can concentrate on growing its VR industry, which it will then figure out how to monetize.
Software sales and advertising are other possible monetization options that Facebook could use to make money in the VR industry. The global market for VR systems alone will be worth $12.3 billion by 2018, up sharply from $0.70 billion in 2015, according to research firm SuperData.
A revolution in the making
Facebook's CEO (chief executive officer) Mark Zuckerberg has repeatedly said that VR could transform how people interact with their environment, likening the technology to the smartphone revolution. For Facebook, a robust VR industry would be positive in the company's effort to diversify its revenue stream beyond online advertising. It continues to face tough competition for advertising from Alphabet's (GOOGL) Google, Twitter (TWTR), and Snap (SNAP).