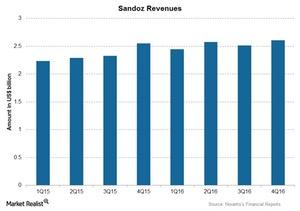 Novartis's 1Q17 Estimates for Sandoz
By Mike Benson

Updated
Sandoz, the generics segment
Sandoz, the generics arm of Novartis (NVS), develops, manufactures, distributes, and sells prescription drugs that are not protected by patents. They include both pharmaceuticals and biotechnological active substances. Sandoz contributes nearly 20.0% to Novartis's total revenues.
Sandoz is the number-two generic medicines provider worldwide and number one in differentiated generics, which are products difficult to develop and manufacture.
Sandoz's revenues are expected to rise in 1Q17 following an increased demand for biopharmaceuticals such as biosimilars and Glatopa. The rise is also due to continued strong growth in its dermatology products.
Article continues below advertisement
Biopharmaceuticals
The global sales of biopharmaceuticals, including biosimilars, biopharmaceutical contract manufacturing, and Glatopa, are expected to rise in 1Q17 following increased demand for the drugs. Glatopa is the first generic version of Teva Pharmaceutical's (TEVA) Copaxone 20 mg (milligrams) used for the treatment of relapsing forms of multiple sclerosis.
The three in-market biosimilars—Omnitrope (somatropin), Binocrit (epoetin alfa), and Zarzio/Zarxio (filgrastim)—are expected to contribute to the growth of biopharmaceutical revenues.
Anti-infective franchise and retail generics
The anti-infective franchise restored its production capacities in 2014. It's expected to report lower revenues due to weak sales in 1Q17 since Sandoz has discontinued its low-margin products.
To divest the risk, you can consider ETFs such as the iShares Global Healthcare (IXJ), which holds 4.9% of its total assets in Novartis, 7.7% in Johnson & Johnson (JNJ), 2.3% in Celgene (CELG), and 2.3% in Allergen (AGN).