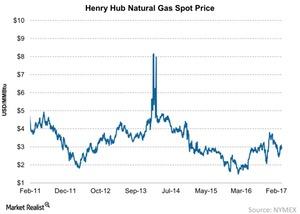 Natural Gas Prices Were Subdued Last Week
Natural gas for fertilizers
Natural gas is key to nitrogen fertilizers. It can account for as much as two-thirds of the total production costs for natural gas–based nitrogen fertilizer producers such as CF Industrial Holdings (CF), Terra Nitrogen (TNH), PotashCorp (POT), and Agrium (AGU).
In this part of the series, we'll look at weekly price movements for natural gas in the US (XLB) at Henry Hub. In the United Kingdom, heavy natural gas trading takes place at the NBP (National Balancing Point).
Article continues below advertisement
Natural gas prices
Based on data provided by the EIA (U.S. Energy Information Administration) last week, average weekly natural gas prices at Henry Hub rose by an average of 1.2% to $2.95 per MMBtu (million British thermal units)—compared to $2.95 per MMBtu the previous week.
Front-month futures, expiring in May 2017, rose 4% to $3.2 per MMBtu from $3.1 per MMBtu the previous week.
EIA's forecast
In its Short-Term Energy Outlook report for March, the EIA estimated an average price of $3.03 per MMBtu in 2017 at Henry Hub. For 2018, it expects an average price of $3.45 per MMBtu. In 2016, the average natural gas price was $2.51 per MMBtu, while the average price was $2.63 per MMBtu in 2015.
In the next few parts of this series, we'll look at the prices of phosphate fertilizers such as diammonium phosphate and monoammonium phosphate.