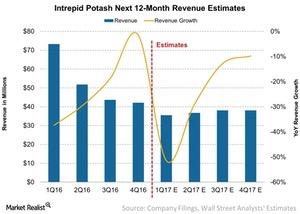 Intrepid Potash's Sales Are Expected to Keep Falling
Sales
In recent quarters, Intrepid Potash's (IPI) sales have suffered significantly. The company's sales come from two products—potash and langbeinite, also known as "Trio." Sales for fertilizer companies such as Intrepid Potash, PotashCorp (POT), CF Industries (CF), and Israel Chemicals (ICL) are a function of shipment volumes and fertilizer prices. With fertilizer prices being subdued, let's look at analysts' estimates for Intrepid Potash's sales for 1Q17 and fiscal 2017.
Article continues below advertisement
Estimates
Analysts expect Intrepid Potash's sales to be $35.6 million in 1Q17—compared to sales of $73.3 million in 1Q16. For fiscal 2017, analysts expect the company's sales to be $148.5 million—an ~30% decline from $210.9 million YoY (year-over-year).
Peers
Intrepid Potash's sales growth is heavily weighted towards the potash segment. With big players such as PotashCorp, Agrium, and Mosaic present in North America, Intrepid Potash is at a relative disadvantage. PotashCorp has economies of scale, which make it one of the lowest-cost producers. Agrium has a vast retail network in North America (XLB).
For the next 12 months, Wall Street analysts expect PotashCorp's sales to come in at $4.2 billion. Compared to $4.5 billion in 2016, fiscal 2017 sales are estimated to fall 5% YoY.
In the next part, we'll discuss EBITDA margins.