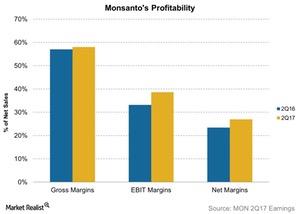 Why Monsanto's Profitability Improved in 2Q17
Profitability measures and operating margins
In fiscal 2Q17, Monsanto's (MON) profitability improved across the board. In the preceding part of this series, we discussed how the company's overall gross margin grew from 57.33% to 58.18% YoY (year-over-year) in fiscal 2Q17. But the company's operating or EBIT (earnings before interest and tax) margin showed an even more significant improvement YoY.
MON's EBIT margin rose from 31% in fiscal 2Q16 to 37% in fiscal 2Q17, with both major segments experiencing an expansion in EBIT margin. The Seed and Genomics segment's EBIT margin grew from 39% to 44% YoY, while the Agricultural Productivity segment's EBIT margin grew from 1% to 13% YoY.
Article continues below advertisement
Monsanto experienced a rise in operating expenses that stemmed from increased business and was related to growth in incentive accruals expenses, investments in its Climate Fieldview Platform, and higher commissions in South America. The company noted, however, that these expenses were partially offset by the company's savings from restructuring costs.
Notably, agribusiness companies (MOO) have generally faced headwinds as a result of weak prices, and so cost savings have become critical in these companies' efforts to sustain margins. Potash Corporation of Saskatchewan (POT), Mosaic (MOS), and CF Industries (CF), which supply fertilizers to the agribusiness market, have all taken steps to lower their costs.
Outlook
Monsanto expects the savings from restructuring costs to continue until 2018. These restructuring costs have been related to four initiatives: maintaining four commercial hubs, modernizing information technology and supply chain networks, using data analytics for accelerating its R&D (research and development), and having R&D centers globally.
In the next and final part of this series, we'll discuss the recent updates on the company's merger plans with Bayer.