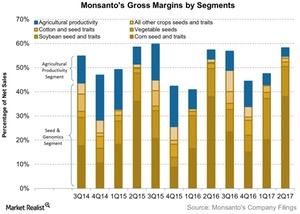 Behind Monsanto's Margin Growth in Fiscal 2Q17
By Adam Jones

Apr. 6 2017, Updated 4:05 p.m. ET
Monsanto's margins
In fiscal 2Q17, Monsanto's (MON) overall company margin, from both segments combined, grew from 57.33% to 58.18% YoY (year-over-year).
In the Seed and Genomics segment, corn margins moved from 64% in fiscal 2Q16 to 67% in fiscal 2Q17. This growth came from strong corn demand and the improved cost of goods.
Soybean margins expanded from 67% in fiscal 2Q16 to 73% in fiscal 2Q17 on the back of the lower cost of goods and higher sales in the US, mainly from Roundup Ready Xtend seeds.
The cotton gross margin expanded to 71% in fiscal 2Q17 from 49% in fiscal 2Q16 on the timing of customer contracts and Bollgard II XtendFlex seed sales. The vegetable seed margin expanded from 50% to 51%, while the other seeds and traits margin contracted from 55% to 34% YoY.
Article continues below advertisement
The Agricultural Productivity segment
This segment's overall margin contracted from 24% in fiscal 2Q16 to 20% in fiscal 2Q17 on the back of lower prices for the glyphosate products. Pricing and volume also played key roles in the sales and gross margin dynamics of commodity peers (SOIL) Syngenta (SYT), Dow Chemicals (DOW), and Potash Corporation of Saskatchewan (POT).
Now let's discuss Monsanto's other profitability measures in fiscal 2Q17.
| | | | | | | | | | | |
| --- | --- | --- | --- | --- | --- | --- | --- | --- | --- | --- |
| | Detect languageAfrikaansAlbanianArabicArmenianAzerbaijaniBasqueBelarusianBengaliBosnianBulgarianCatalanCebuanoChichewaChinese (Simplified)Chinese (Traditional)CroatianCzechDanishDutchEnglishEsperantoEstonianFilipinoFinnishFrenchGalicianGeorgianGermanGreekGujaratiHaitian CreoleHausaHebrewHindiHmongHungarianIcelandicIgboIndonesianIrishItalianJapaneseJavaneseKannadaKazakhKhmerKoreanLaoLatinLatvianLithuanianMacedonianMalagasyMalayMalayalamMalteseMaoriMarathiMongolianMyanmar (Burmese)NepaliNorwegianPersianPolishPortuguesePunjabiRomanianRussianSerbianSesothoSinhalaSlovakSlovenianSomaliSpanishSundaneseSwahiliSwedishTajikTamilTeluguThaiTurkishUkrainianUrduUzbekVietnameseWelshYiddishYorubaZulu |   | AfrikaansAlbanianArabicArmenianAzerbaijaniBasqueBelarusianBengaliBosnianBulgarianCatalanCebuanoChichewaChinese (Simplified)Chinese (Traditional)CroatianCzechDanishDutchEnglishEsperantoEstonianFilipinoFinnishFrenchGalicianGeorgianGermanGreekGujaratiHaitian CreoleHausaHebrewHindiHmongHungarianIcelandicIgboIndonesianIrishItalianJapaneseJavaneseKannadaKazakhKhmerKoreanLaoLatinLatvianLithuanianMacedonianMalagasyMalayMalayalamMalteseMaoriMarathiMongolianMyanmar (Burmese)NepaliNorwegianPersianPolishPortuguesePunjabiRomanianRussianSerbianSesothoSinhalaSlovakSlovenianSomaliSpanishSundaneseSwahiliSwedishTajikTamilTeluguThaiTurkishUkrainianUrduUzbekVietnameseWelshYiddishYorubaZulu |   |   |   |   |   |   |   |
Text-to-speech function is limited to 200 characters