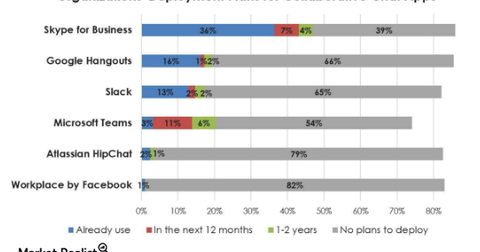 Microsoft Teams Could Spur Competition in the Collaboration Space
By Anne Shields

Updated
Microsoft's Skype for Business
Earlier in this series, we discussed Office 365's new security features as well as the launch of Microsoft Teams by Microsoft (MSFT). Microsoft acquired LinkedIn with the hope that it would not only boost its Office 365 offerings but also expand the company's reach in the social networking and workforce collaboration space. 
Through the acquisition of LinkedIn, Microsoft aimed to create an interconnected identity for the individual user. This capability would enable the company to operate in the workforce collaboration space, an area where Slack enjoys considerable dominance.
Article continues below advertisement
According to a Spiceworks survey of IT professionals, Microsoft's Skype for Business is the most commonly used collaborative chat app. The chart above shows that Skype for Business is used by 36% of businesses in some manner. Microsoft is followed by Google (GOOG) Hangouts at 16% and Slack at 13%. Based in Austin, Texas, Spiceworks is an IT social networking hub.
Both Microsoft Teams and Workplace by Facebook (FB), which was launched around the same time as Microsoft Teams, had low adoption. However, this low adoption is expected, as both offerings are relatively new to this space.
Microsoft Teams could surpass Hangouts and Slack adoption
Although the app currently has low adoption, Spiceworks's survey results show that 17% of companies plan to employ Microsoft Teams in the next two years. In comparison, the adoption or usage of Google Hangouts and Slack could rise only 3% and 4%, respectively, in the next two years.
According to the survey's results, "If these plans hold true, Microsoft Teams will be the second most commonly used messaging platform in the workplace by the end of 2018, surpassing Slack and Google Hangouts, and coming in behind only Skype for Business. This bodes well for Microsoft, who owns Skype, and could speak to the fact that Microsoft Teams is free to use for companies that subscribe to Office 365."