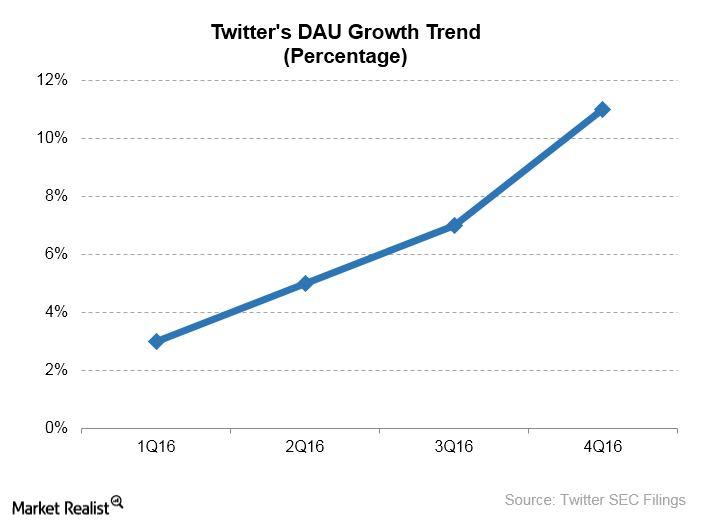 Looking at Twitter's Daily Active User Growth for 1Q17
By Neha Gupta

Apr. 18 2017, Updated 10:36 a.m. ET
Twitter's DAU metrics
Twitter (TWTR) has not been completely transparent with its daily active user (or DAU) metrics, and it remains to be seen whether that will change in the upcoming 1Q17 report.
Although the company doesn't break out its DAU numbers, including the exact number of its DAUs and their regions such as US (SPY) or Europe (EFA), it reports the growth in the number of daily users.
Article continues below advertisement
DAU growth rate
However, Twitter's DAU progress has been impressive, as recent quarters have seen the metric accelerate. Its DAU rose 11% in 4Q16 compared to 7% growth in 3Q16 and 3% growth in 1Q16, as illustrated in the chart above.
As Twitter reports its 1Q17 earnings, investors would like to see how the company fared in DAU acquisition and especially whether its growth momentum is accelerating or cooling.
Why the focus is on the DAU metric
DAU data has become a key metric in gauging the strength of social media companies. Snap (SNAP) last reported more than 160 million DAUs on its disappearing-photo app Snapchat. Facebook (FB) has more than 1.2 billion DAUs on its flagship app.
The DAU metric can give investors some idea of how a social media platform is used by its subscribers and its ability to appeal to advertisers. Marketers prefer spending their advertising budgets on platforms with strong user engagement, which explains why Facebook is a priority for many social advertisers.
If the 1Q17 report shows improvement in Twitter's DAU, investors could feel relieved that the company is moving in the right direction.