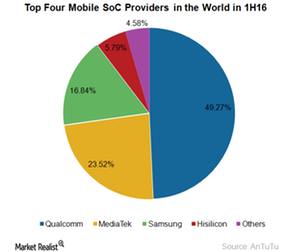 Looking at the Rumor of AMD's x86-Based Mobile SoC
By Puja Tayal

Updated
Rumor: AMD is trying its hand at mobile architecture
There is speculation surrounding the future roadmap of Advanced Micro Devices (AMD), as the company's Zen architecture for PCs and servers could improve with every upgrade. ExtremeTech reported another rumor of AMD entering the mobile architecture space. 
According to the leak, the company is developing a smartphone/tablet SoC (system-on-chip) codenamed "Little Foot." The SoC is expected to run on x86 architecture and could hit the market in 2018.
Phoronix found some hints of an AMD-powered Google (GOOG) Chromebook, which could be released in the near future. The hint came from a code review of coreboot, an open source software project that is run on all Chromebooks. 
It was found that coreboot has references of "Kahlee," which according to Chrome Unboxed is an AMD board powered by the Stoney Ridge APU.[1. application processing unit]
Article continues below advertisement
Can AMD survive the consolidated mobile SoC space?
The smartphone SoC market is already consolidated, and market leaders are operating on wafer-thin margins. According to AnTuTu, Qualcomm (QCOM) dominates the mobile SoC market with an ~50% market share. It earned an operating margin of 13% in 2Q17.[2. quarter ended March 26, 2017]
Recently, Microsoft (MSFT) partnered with Qualcomm to bring the former's Windows OS on the latter's ARM-based SoCs. Qualcomm's Snapdragon SoC would run on both Google's Android OS and Microsoft's Windows OS. 
Even Qualcomm is struggling to boost SoC sales, as high-end smartphone makers such as Samsung (SSNLF), Apple (AAPL), and Huawei are switching to in-house SoCs for their high-end phones.
All this has reduced the need for an x86 mobile architecture. Intel (INTC) tried its hand at x86 mobile architecture, but it exited the mobile SoC market in 2016 after failing to secure market share.
How do analysts view AMD's mobile SoC project?
Some analysts believe that AMD may not be able to make any significant strides in the mobile SoC market. In fact, some analysts think that the company may scrap the project, as it may not get volume orders from mobile OEMs.[3. original equipment manufacturers]
Next, we'll compare the key fundamentals of AMD and its rivals.