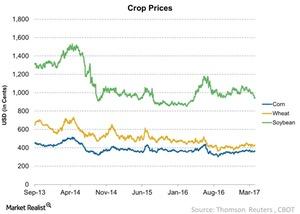 Crop Futures in April: Understanding the Weakness
By Adam Jones

Apr. 7 2017, Published 4:47 p.m. ET
Crop prices
Now that we've discussed the forecast for US farm income, we'll turn to price trends for corn, wheat, and soybeans, which are key drivers of income.
In the chart below, we've plotted the front month futures (May 12 expiry) for corn, wheat, and soybeans. Corn futures were trading at $3.6 per bushel, which is not too different from where they were trading one year ago. Corn futures briefly crossed the $4.0-per-bushel mark in May 2016–June 2016, but they have retracted since then.
The US, which is the largest producer of corn, experienced a record 95 million acres in 2016. According to Potash Corporation of Saskatchewan (POT), this number has come down and switched over to soybean.
Article continues below advertisement
Soybeans and wheat
Meanwhile, there hasn't been much positive movement in soybean or wheat prices. The soybean front month futures were trading at $9.48, which is higher than its $9 per bushel a year ago. Wheat front month futures were trading at $4.3 per bushel, which is lower than $4.7 one year ago. Like corn futures, soybean and wheat futures briefly rose between May 2016 and June 2016.
The futures in the chart above appear to spell weakness in commodity prices. The upcoming quarter earnings calls of companies (XLB) such as PotashCorp (POT), Mosaic (MOS), Agrium (AGU), and Monsanto (MON) will likely shed more light on the direction of farm economics.
Now let's examine the long-term outlook.