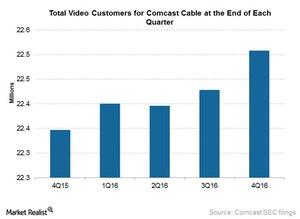 Is Verizon Interested in Comcast?
By Shirley Pelts

Dec. 4 2020, Updated 10:52 a.m. ET
Verizon's interest in Comcast
On April 19, Bloomberg reported, citing Verizon Communications' (VZ) CEO, Lowell McAdam, that Verizon is open to merger discussions with either Comcast (CMCSA), The Walt Disney Company (DIS), or CBS (CBS). Lowell McAdam discussed this interest in an interview at Bloomberg's headquarters in New York.
On April 20, according to a FierceCable report, Verizon's FiOS triple-play business suffered a loss of 13,000 video subscribers in fiscal 1Q17. According to the report, AT&T (T) also lost 1.4 million video subscribers in 2016 for its U-verse service. These statistics indicate that the pay-TV business of telecommunication companies is in a state of decline. As a result, this move could have spurred Verizon's interest in Comcast. Comcast, with its acquisition of NBCUniversal, is in the business of both content distribution and content production.
Article continues below advertisement
Compared to Verizon's declining video subscribers, at the end of 2016, Comcast's Triple Play customers had risen 29% year-over-year to 28.5 million. The company posted its best figure for customer additions in its video business in the past ten years with net video customer additions of 161,000 at the end of 2016. Comcast had 22.5 million video customers at the end of 2016, as the chart above shows.
Comcast's foray into 5G
Another reason for Verizon's interest in Comcast could be 5G technology. In the telecommunications world, 5G (fifth-generation) technology is generating a lot of hype, as it could provide ten to 100 times faster wireless speeds than 4G (fourth-generation) technology. Last month, Comcast had stated at the Deutsche Bank Media, Internet, and Telecom Conference that it had network compatibility with 5G. The company is currently in the process of testing out its 5G technology over coaxial and fiber optic cables.